ZAMBIAN MISSION 2009
scripted by Brother Blessing Akpan Nice
LUSAKA MEETINGS
We had waited for the arrival of Brother Nice for quite sometime. We had expected him in the first week of July, the same time we hosted Brother James Veremu of Zimbabwe. The meetings were rescheduled for the end of July 2009.
Bro. Nice traveled to the Congo on the 23rd of July. After about a month's stay in DRC, the Lord made a way for him to come to Zambia. He arrived in Zambia on the 22nd of August 2009. He ministered in Brother Andrew Phiri's fellowship on the same day. There were ministers who had traveled from Ndola, Kabwe, and within Lusaka to experience the move of God in the ministration of the word. It was a great blessing as many were set free by God's word and 7 souls gave their lives to the Lord and were baptized the following day.
Bro Nice was holding 2 meetings a day on Saturdays and Sundays, both preaching and praying for the sick each day.
During weekdays, meetings were held in the homes Mwansa, and Bro Phiri, and again some people gave their lives to the Lord Jesus Christ.
TESTIMONIES
1. Sister Agnes Phiri
Sister. Agnes Phiri had responded to the alter call when the sick were prayed for. When she woke up the following day, all the pain was gone. She gladly testified the following day.
2. Mrs. Exilda Mulembe
Mrs. Exilda mulembe is a Catholic sister, who was invited by (Mrs. Lisholo) to hear the word of God, having been long depressed due to sickness. She had asthma, high blood, and severe back pain due to constant asthmatic cough, and could not walk properly for six months. She also had difficulties in breathing because medical report said that she had fats in excess choking her heart.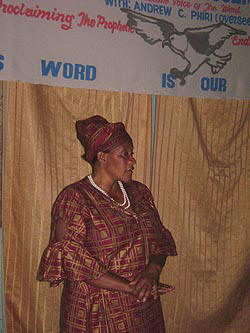 She was recommended for surgery to cut out the excess fats in a hospital in South Africa, which she underwent. She returned back to Zambia 5 days before attending this meeting not feeling well at all. For six months she had not eaten the local meal (Nshima), and being that she was to undergo another surgery, she was not to eat this type of meal at all.
When she responded to the altar call to give her life to the Lord, something strange happened to her as she puts it in her own words. She felt something like water go through her body.
From that time she has been able to bend down, walk and breathe properly, and even run without difficulties. To be sure that she was healed, she went home and ate Nshima, and there was no disturbance unlike the preview times. She came back in the second service and was jumping before the eyes of everyone. Praise the Lord!
Sis. Mulembe Testifying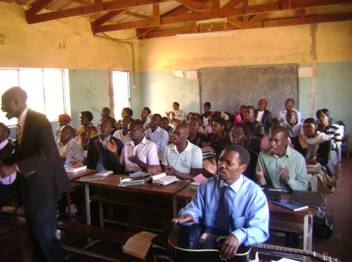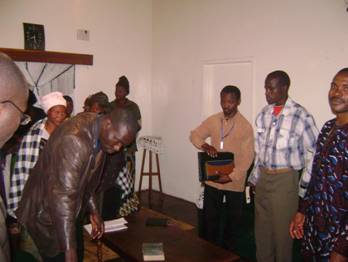 Believer's Fellowship Lusaka House meetings in Lusaka
3. Mrs. Lisholo
Mrs. Lisholo is a sister from a Pentecostal Church in Lusaka. She is the mother of Bro. Smathey who is a believer in Pastor Phiri's fellowship. For more than 7 months, she had experienced sever pains and body weakness. It was proven by X-RAY that her heart was over enlarged. She was invited by her son to attend the meeting on the 22nd of August 2009. After the message the sick were called to the prayer line. Having been prayed for, as she turned to go, Brother Nice called her back, prayed for her the second time. This time she was overtaken by the power of God as she fell to the ground. She was there until the last person was prayed for.
Her next appointment in the hospital was on Tuesday 25th August 2009. This time a scan revealed that she was perfect all right, and even the doctors were so shocked by this result. A final examination proved that she had been divinely healed and the doctors told her that she was perfectly well, even from an earlier infection that led to the heart disease.
It was due to this experience, that she invited her depressed friend to come seek deliverance from the lord God. They both declared to be baptized in the name of the Lord Jesus Christ. Praise God!
CHOMA MEETINGS
Bro. Nice left for Choma on Saturday 5th Sept. 2009. He had meetings in Pastor. Mawino's church. A host of other pastors and their church members attended the 2nd service on the Sunday.
The Lord came among the people during the preaching of the word. Bro. Nice spoke on the dual statements of the messenger of our age, as a tool in the hands of God to purge his floor. He said, many are busy guarding the tomb of the prophet after over forty years of his passing away. He compared them to the shepherds who took their flock to a sheep market, and kept charge of the pool at Bethesda for personal gains. John 5: 1-8. He said that no true shepherd would take his sheep to such a place where they would not be properly fed, and there would be no good water for the sheep to drink, those impotent folk waiting for the movement of the water a type of today's believers of the message seeking truth outside the WORD. He said the angel that shook the waters had not done that for 30yrs because at the birth of Jesus Christ, all theophanic appearances of God ceased. Likewise today, since the death of the star messenger, all who scramble for a vindication of a pillar of fire, charismatic revival are in falsehood and should repent.
He ended by saying that the scripture was 'And these signs shall FOLLOW…,' and not they shall run after these signs.
There were meetings on Monday and Tuesday and Bro. Nice personally baptized 2 brothers before getting into the bus back to Lusaka at 9:00a.m on Wednesday morning.
TESTIMONIES
Truly, these signs shall follow them that believe. There were tremendous workings of the Lord in Choma, but for space we would just share two just as in Lusaka.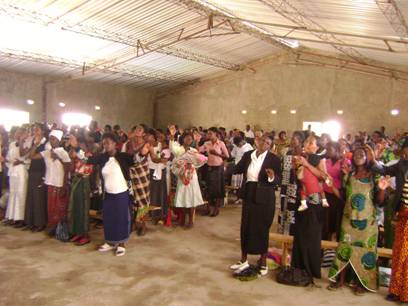 Saints worshipping @ CHOMA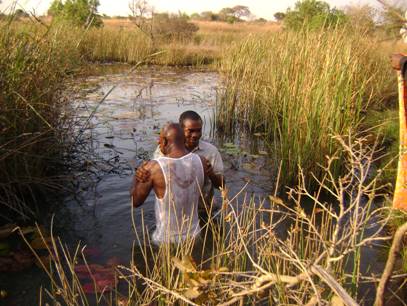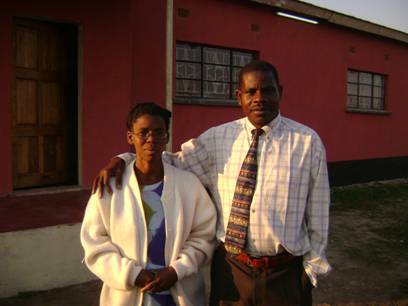 Bro Nice Baptizing a Catholic convert Pastor Mawino and Wife
DELIVERANCE FROM EVIL COVENANTS.
During the 1st service, a lady came out as others did to be prayed for in the prayer line. As she approached Bro. Nice, he asked her to wait while he prayed for others. Finally he came to her and told her that she was wrapped about with a dirty rag, and that she had been experiencing some unbelievable things. As he prayed for her, she began manifesting some strange spirits that threw her down and later left her. She wanted telling her story but Bro. Nice said there was no time for that as the Word was more important that all of that. It was later learned, that her father was a very wicked voodoo priest. Just few months ago, she opened a bag which she personally packed a few hours before, only for a COBRA to be found in the bag and it spit right into her mouth, before the eyes of all that were standing by. She was very happy for her deliverance.
A NOTABLE HEALING
A sister who had patiently attended all the meetings despite not being to walk properly due pains she her suffered 2years. She also was diagnosed of enlargement of the heart. Her legs were very heavy and she was unable to bend or walk normally. At the end of the Tuesday meeting, she suddenly jumps out of the tabernacle to the surprise of all who knew her case. She started running and shouting to the glory of God. She later called that she was perfectly healed in Jesus' name. Hallelujah!
~ ~ ~ ~ ~ ~ ~ ~ ~
THE WITCH DOCTOR (TATA-NGIMBU) IN MUMBWA
Bro. Nice left for Mumbwa 2 days after returning form Choma. The pastor in Mumbwa, Bro Shinachize Austin was just returning from Sanse village where he had a tough encounter with a witch doctor (TATA NGIMBU "FEROCIOUS AXE"). He was said to be the strongest in the region.
Bro. Shinachize had visited the village a year ago, and one of Tata Ngimbu's clients was converted to the Lord Jesus Christ. Owing to the conversion of his client, the witch doctor vowed to destroy the pastor. He confronted him openly before the eyes of other villagers and warned him not to preach or return to that village again. On that particular day something strange happened. While he was talking to this humble preacher, the power of God was present such that this witch doctor could not stand the power of God. To the amazement of everyone standing by, he staggered backward and fell flat to the ground. On getting up he became even more furious, but the preacher simply walked away. One year later, Bro Shinachize had to visit Bro. Ngemba. This brother had faithfully served the Lord for one year, walking a distance of 11 miles to attend each church meeting. Being an old man, he desired to have a fellowship established in his village. He began praying with his wife asking God to touch and raise someone from that village.
Friends, the Lord started with Tata-Ngimbu's wife, who regularly visited Bro. Ngemba's family to pray with them secretly when the husband was away. On the day the pastor visited, he met this family in a prayer meeting with Ngimbu's wife. Tata-Ngimbu returned home before his usual time, the wife was almost frozen to death for fear of the husband, but the pastor in a bold manner sent the old man to call him. When the witch doctor heard that the pastor had defied his warning not to enter the village, and that his wife was in a meeting there also, he wentt into his SECRET CHAMBER to fortify himself, and in anger, rushed to Bro. Ngemba's home.
Again, the power of God was present. As he came into the compound he suddenly knelt down to greet the pastor as their custom demands. In simple words the pastor told him that there was a preacher coming from Nigeria to Mumbwa, who will love to meet him. He also asked him to come with his charms that the said pastor was going to burn them and pray for him.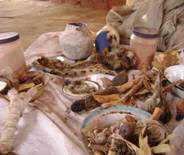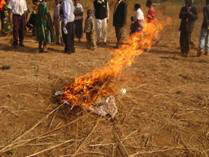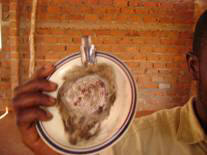 CHARMS SURRENDERED    BURNING OF THE CHARMS       CAN A BOTTLE MAGNET CERAMIC?
It was not easy as said; he stood quietly for a long time looking at the pastor, while his wife was crying. She had been yearning for deliverance, which seemed too far to reach. He turned and went out without a word, only to return with some things which were moveable, others he said with NOT moveable.
That evening he was sitting quietly at the home of Bro. Shinachize, narrating his life story to Bro. Nice. To get the power he was using, he was taken underneath the river where he lived for one year. His family performed his funeral, thinking he had died. He became very popular, and was consulted by big politicians. This was proven, as there was a great crowd of people rushing from everywhere to see if truly there was a power that could subject Tata Ngimbu.
After the message on Sunday he was among those who came out to surrender to the Lord Jesus Christ. When Bro. Nice prayed for him, he manifested some animalistic spirits and was set free. He was baptized in the name of Jesus Christ.
He asked the some ministers to go with him, as he was not willing to return to the same house where he used as a shrine. Praise God!
There were many other testimonies, especially of salvation and those who came openly to denounce evil doctrines, sin partners, and turning to the Lord Jesus Christ for salvation.
May the Lord Jesus Christ, who is the lover of the bride, be glorified forever. Amen
Yours in His blood
Jesse Nzima
Lusaka, Zambia
NB:
We, the believers in Zambian give many thanks to our Lord and Saviour Jesus Christ, for sending Bro. AKPAN-BLESSING Nice to us in a time of great need.
We were blessed by the following teachings:
Why Jesus fed the multitude twice
The seven Chamberlains
The Sheep Gate at Jerusalem
What the Blood of Jesus SAID
We pray that the Lord will bless him and the family he left behind these past 2 months. We also ask as many that will come across this report to uplift our dear brother in prayers as he takes the last lap of this mission trip in DRC. Shalom!
Posted: 2 Dec.2010