EAST AFRICA MISSION REPORT

DECEMBER 2016

Jeremiah 5:20-31
20 Declare this in the house of Jacob, and publish it in Judah, saying,
21 Hear now this, O foolish people, and without understanding; which have eyes, and see not; which have ears, and hear not:
22 Fear ye not me? saith the LORD: will ye not tremble at my presence, which have placed the sand for the bound of the sea by a perpetual decree, that it cannot pass it: and though the waves thereof toss themselves, yet can they not prevail; though they roar, yet can they not pass over it?
23 But this people hath a revolting and a rebellious heart; they are revolted and gone.

The Dream of Brother Kingsley Nlemeke (28-Nov-2016)
My trip to Uganda was not announced, and those traveling with me were only given a week notice to prepare. It has been the way I work and those working closely with me have come to understand this since they cannot change it.
The very confirmation I had that gave me the push to go to Uganda was the dream told me by Bro. Kingsley Nlemeke.
The dream: The church were coming to receive me at the airport, and it was clear that I was returning from Uganda. The vision changed, and so it was that, when the entire church arrived at the airport they instead saw me waiting to receive guest preachers from Uganda. We all gathered near the airport tarmac, but as the plane touched down it came to a stop near where we stood. As the aircraft door opened, Ugandan soldiers disembarked from the aircraft and started shooting. I immediately asked everyone to get behind me while I spread wide my arms. All the bullets came toward me but not one pierced my body. All the believers of the fellowship had in their hands a sachet of bleach (for washing out stains from white clothes). At my command they threw at the soldiers and each one that got hit fell to the ground, losing his gun; and the guns came into the hands of the church deacons and brothers; and they started shooting, killing those soldiers. Then I cried with a loud voice "Please save the pastor's son; save him please, because of his father...please".
The dream was four days before I announced to the brethren, even to my wife that we have a work to do in Uganda and Kenya.
The dreams of Brother Charles Obwoon, Pastor of "Little Flock Church, Kampala"
I will not detail on the 3 dreams of this humble servant of God, but I trust he will share his dreams at the appropriate time. In one of the dreams he had when he went to Katakwi to have a private time of prayer and fasting concerning the crisis that was
rocking the church, he saw me leading him into the church (Little Flock church). He then returned and shared it with the saints at the Little Flock Church and also prayed for God to send us. The Lord answered that prayer by making a way for us to go to East Africa, and also providing the means for us to carry over 150kg of books for the edification of the saints.
INTRODUCTION
The believers in Uganda experienced terrible shakings with the passing away of some key ministers in the year 2015/2016. It started with Bro. John-Mark Louse of Karamoja, next was Bro. Bolahs Onyango Jimmy of Little flock Church Kampala and then Bro. Paul Lubega of Mukono Church.
These churches were faced with problems immediately after the passing of their pastors; terrible troubles ranging from leadership to doctrinal conflicts.
LEAVING LAGOS (08-Dec-2016)
Being led of the Lord who is the Owner and the Lover of the Bride, the Church of the Living God, a team of four ministers (Bros. Sunday Samuel Moses, Ugochukwu Chimezie, Godswill Dagbo and my humble self) left Lagos on the 9th of December 2016. Bros. Moses and Ugochuckwu travelled through Kigila to Entebbe on Rwandair while Bro. Godswill and I flew Kenyan Airways through Cotouno, Nairobi, Kigali and finally Entebbe. This was so because the latter team had to visit churches en route to Entebbe.
LITTLE FLOCK CHURCH
Prior to our arrival in Kampala, the Little Flock Church was experiencing some shakings caused by a Congolese preacher who was trying to take over the leadership of the church. The elders of the church wisely took their own stand and made their own decision to have Brother Charles Obwoon as their pastor, and therefore quenching the intended fire. Still this said Congolese preacher decided to break the church, taking with him with two families, one of them be a deacon's family. Before this movement he was called to answer cases of immorality involving some young sisters whom he lured through prophesies to a guesthouse in town. This act was first mentioned in Lira (where Bro. Mike Owiny's church is) where he visited and tried to deceive a sister, but she made the matter known. Her family members who were new in church were so disappointed that they wanted to leave the church. This particular case brought other cases to light including an under-aged girl that came forward to tell a disgusting story. I was not surprised to hear this being that I was well informed of the immoral spirit that we have fought against in the lives of preachers in DRC for some years now.
I was led to bring a message of reconciliation to the church titled 'Understanding'. After ministering for 3 days, questions were asked and the Lord healed those wounded in the heart. I had to leave for Karamoja the next day, which was our main reason for this trip.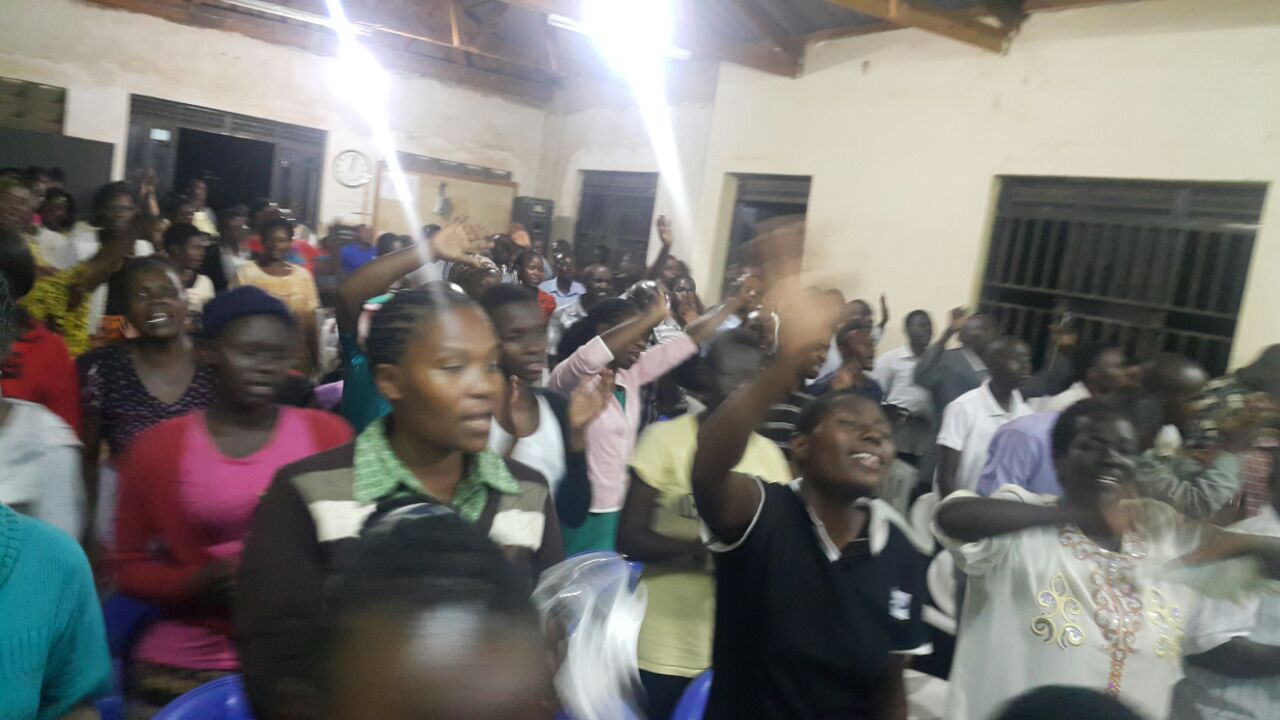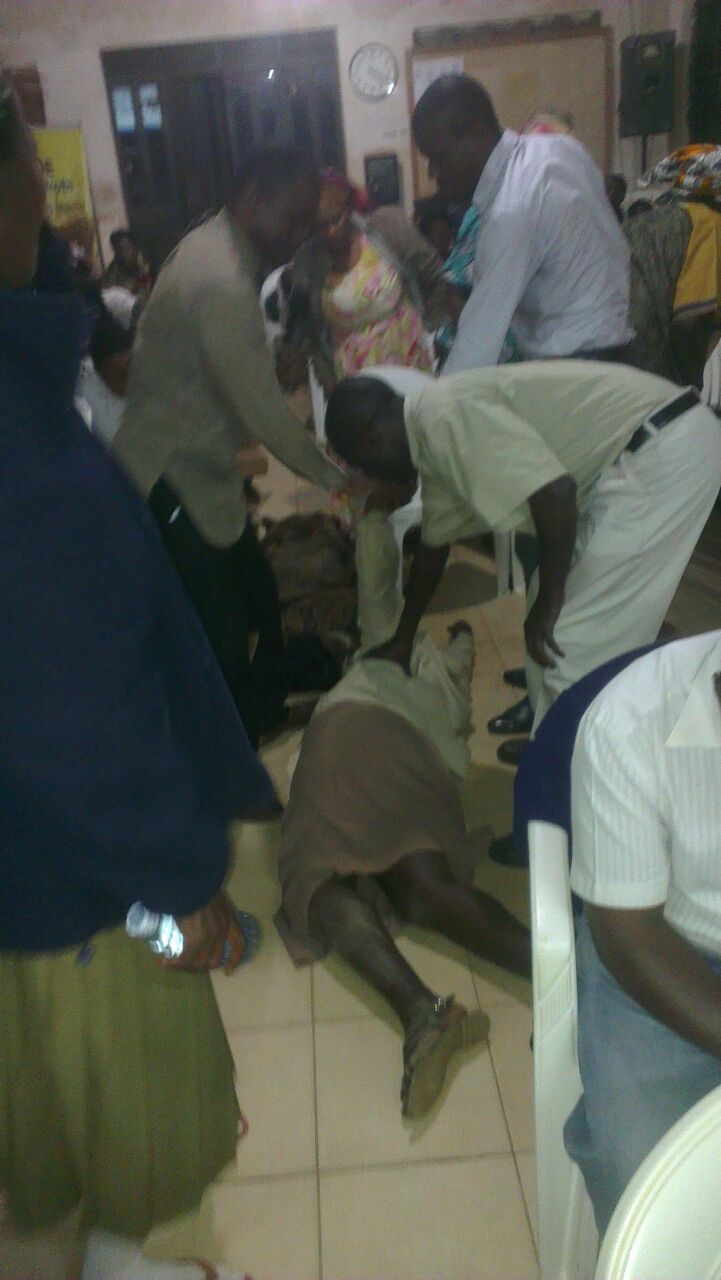 ALL NIGHT PRAYER MEETING AT LITTLE FLOCK CHURCH, LUZIRA, KAMPALA.

During the 3 days meeting at the Little Flock Church, Kampala, we had one minister from Karamoja and one from Kisoro (a town bordering Rwanda and DRC). The pastor of Kisoro church, Bro. Bakina Philip, had a stopover in Kampala from another trip and was to the leave on the day of our arrival, but decided to stay and God knitted out hearts together for the work ahead. He told of the challenges the church was going through as the area was chocked by certain doctrines from a well-known group. We decided to send Bro. Moses Samuel to Kisoro while Bro. Ugochukwu also sent to the interior villages around Hoima where a church was pastored by Bro. Silver. The churches visited by Bro. Moses includes Ndejje Church on Entebbe Kampala Road, Mukono, and Kisoro District in Western Uganda. Bro. Ugochukwu was in Kiboga Ntwetwe; there he visited some village churches. One of such churches was the one in which a supposed brother/deacon beheaded the pastor and fled with his head just a few days before our last visit in May 2015. The late Brother Bolahs who introduced me to Brother Silver told me of the beheading just as we landed at the airport, and I decided to send Bro. Ugochukwu right from the airport to go and hold the believers together in such a time of distress. His going was a great blessing as the Lord used him to keep the church from splitting or even closing down.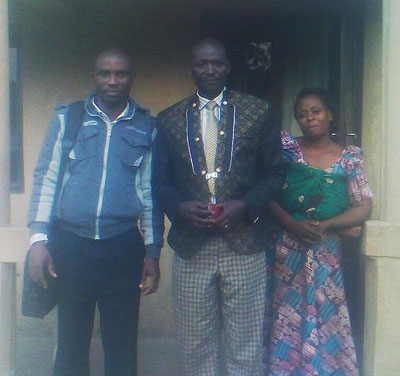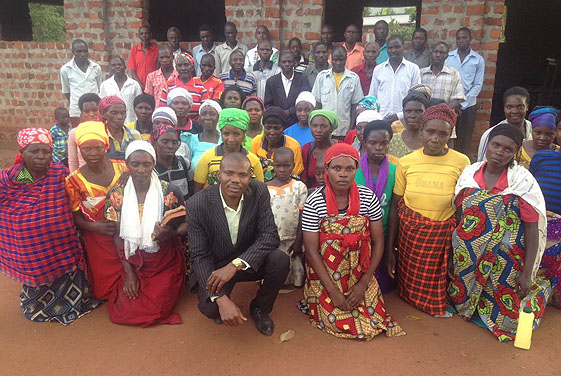 Bro. Moses with Pastor Bakina and Wife in Kisoro Bro. Ugo in Kiboga Ntwetywe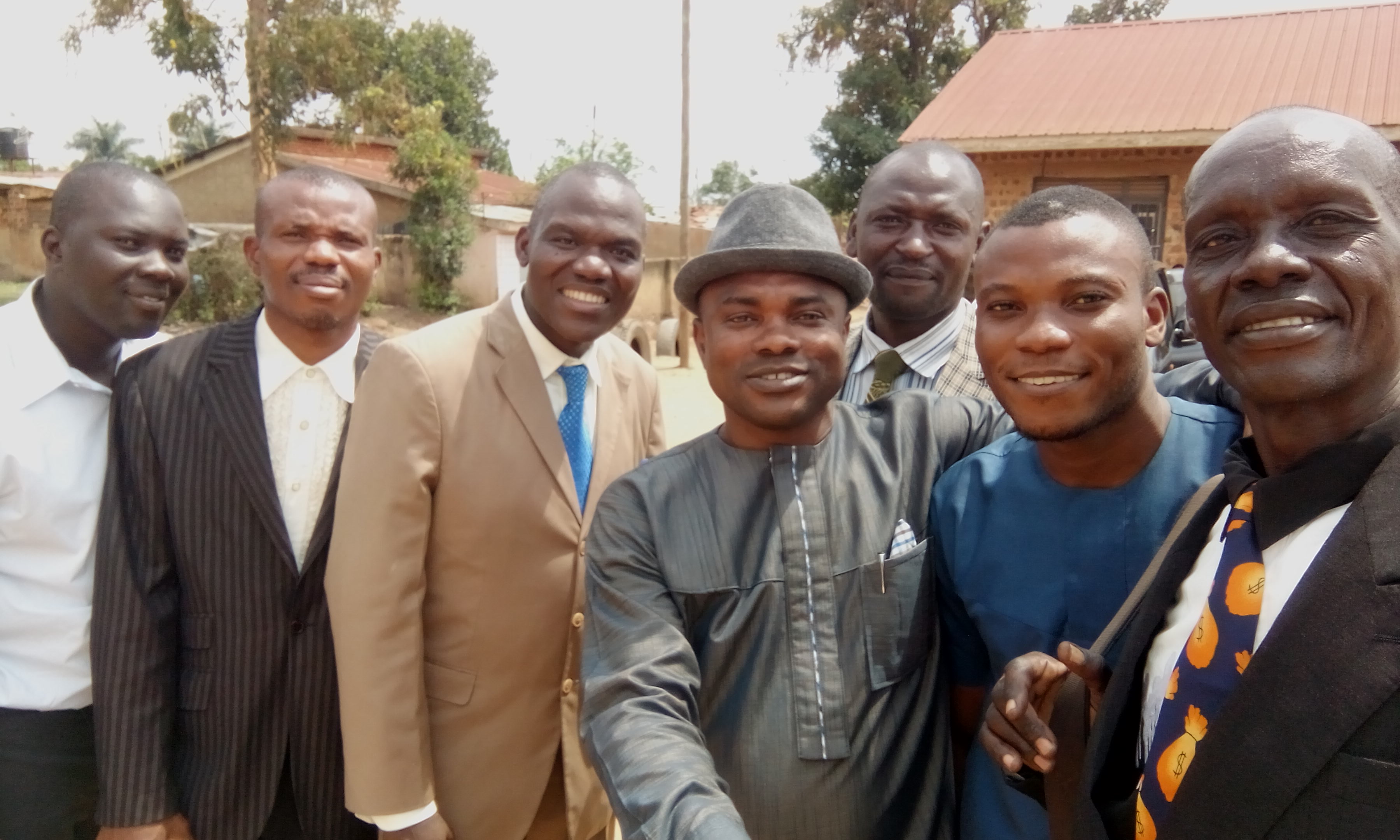 BROs. OJ, UGO, OBWOON, NICE, BAKINA (Kisoro), GODSWILL, and LOKORO (Karamoja)
KARAMOJA MINISTERS' MEETING
IN MOROTO (13-16-Dec-2016)
Immediately after the death of Bro. John Mark Louse, the church in Moroto was thrown into division by the wicked spirit of tribalism, and interference from other churches who wanted to have indirect control of the Moroto Assembly.
I was briefed on how that some church leaders in Karamoja took upon themselves the task of overseeing other assemblies in the region. They agreed to make one of the sons (Abraham Louse) of the late John Mark Louse the pastor of the Moroto Church. They emphasized that they wanted the leadership to stay within the family circle and that the pastor must be a Karamojong. This is nothing short of Nicolaity.
Those who opposed them were excommunicated, and letters written to that effect were distributed throughout the region. Among those excommunicated was the Associate minister to the late John-Mark, Bro. Robert Ojangole and Bro. Samuel Lokoro, a pastor in another district church in Kanhole.
I was shocked to discover that the ring leader was one of my own closest brothers in Karamoja, Bro. Peter Alehu of Matani Church. He had rallied some of the other Karamojong leaders in the faith behind him with the sincere intention of maintaining order among the saints, but little did he know that he has steered into Nicolaity.
Bro. Godswill Dagbo and I left the house of Bro. Omal Ambrose, driven by his wife Sis. Rebecca, to meet up with Bros. Difas Magambo and Samuel Lokoro who were waiting in the town. We left Kampala at about 10:20am and driving the whole day to reach Moroto at 11:30pm in the night.
The elders and ministers of Karamoja had already arrived having heard of our coming. I met with Bro. Abraham, the Son of the late John-Mark, that night with his spokesman Bro. Peter Alehu, who immediately told me that things had gone sour in the faith and that they were trying their best to put things in order. He also mentioned the choosing of Abraham as the pastor, saying that it was the desire of the late John Mark to have it that way.
I asked him whether the Lord had confirmed the ministry of Bro. Abraham, and they could not give me a straight answer. I ended the late night conversation with these words 'God is not the author of confusion, Bro. Abraham maybe called of God but he needs to wait for his time, and that I am here to see to that'.
It was clear that the morning meetings would witness lots of commotions as they quickly interpreted my coming as being against them.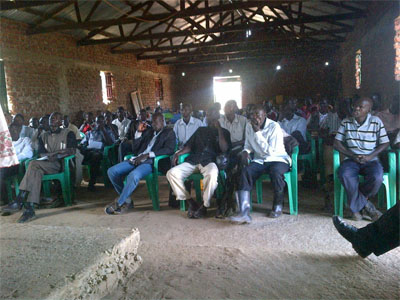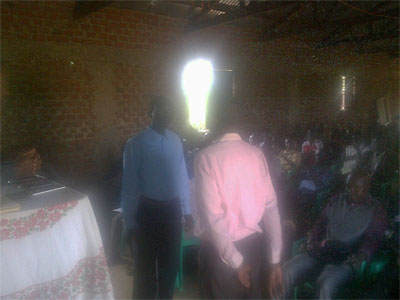 A CROSS SECTION OF KARAMOJONG ELDERS. BRO. OJANGOLE WITH BRO. ABRAHAM
The next two days saw us holding meetings from 9 o'clock in the morning through to the night into the wee hour of 2am.
We were able by the scripture to help resolve some problems in Kotido, but when we started handling the case of Kanhole, I heard shocking reasons why they had to excommunicate Pastor Samuel Lokoro. It was reported that a brother who had backslidden got married outside the faith and then was crying to be re-absorbed into fellowship after a year, but the elders refused, stating that unless he put away the wife he had taken in the world, he would never be allowed back to fellowship.
The only person who boldly stepped into the matter was Bro. Samuel Lokoro, who spoke on-behalf of the said brother and went a step further to accept him back to fellowship. This according to Peter Alehu led to his excommunication. I asked Peter Alehu what right he had to excommunicate another pastor, more so an elder of the faith, and to my amazement he quoted Genesis 6.
I immediately whispered to Bro. Godswill where I was seated that it is clear where we have failed in helping the Karamoja church. The problem clearly is noticeable; the people of Karamoja are not well taught. They have more of evangelistic callings, but rightly dividing the word of truth seems to be a very big issue.
It was reported how the pastor of Katakwi Church, Bro. Simon Ajeroi, was trying to sort the issue of who is to be pastor in Moroto, and a sister rushed to the pulpit and pushed him out of the church. Peter Alehu and Abraham said nothing and when the latter was answering me he said he would want to consult with such people before knowing what to do.
Let me say this before ending this Karamoja report. When Peter Alehu and his group pressed against having Bro. Robert Ojangole as pastor, one of the elders whom they succeeded to lure to themselves was warned in the presence of everyone, that they could be fighting against the will of God; he responded immediately by saying that "even if it meant death, God should begin with him, that he was ready to die than to see Robert become pastor". Saints of God, it was because of this brother that the tussle came up because he stood out as the most successful person in Moroto. It was him and Robert that bought the church land as well as with others' support. Anyway, he died 3 days after making the statement to the shock of the whole Uganda, but the rest have chosen not to repent.
According to them, Robert was serving excommunication and could not be allowed into the church premise, but at my coming, I invited him and all his associates, including all that were excommunicated, and made void the excommunication in the Name of the Lord Jesus Christ.
I just have to write this but it is very funny. Robert Ojangole was excommunicated because he had what I would refer to as private (bedroom) matters with his wife. How was that supposed to be the business of the church in the first place?
As I made my stand known regarding Bro. Abraham not be the pastor of the Moroto church, and that we cannot recognize 2 Assemblies in Moroto, a section of the Karamojong ministers started grumbling. Bro. Joel Ohum, who is the oldest minister in the whole of the Karamoja region, stood up and rebuked the crowd. He told them that "Bro. Nice visited Karamoja, going into the interior parts when the Karamojongs still had guns, and security was not guaranteed, but now that there seem to be accessible roads and security, you ministers have foolishly forgotten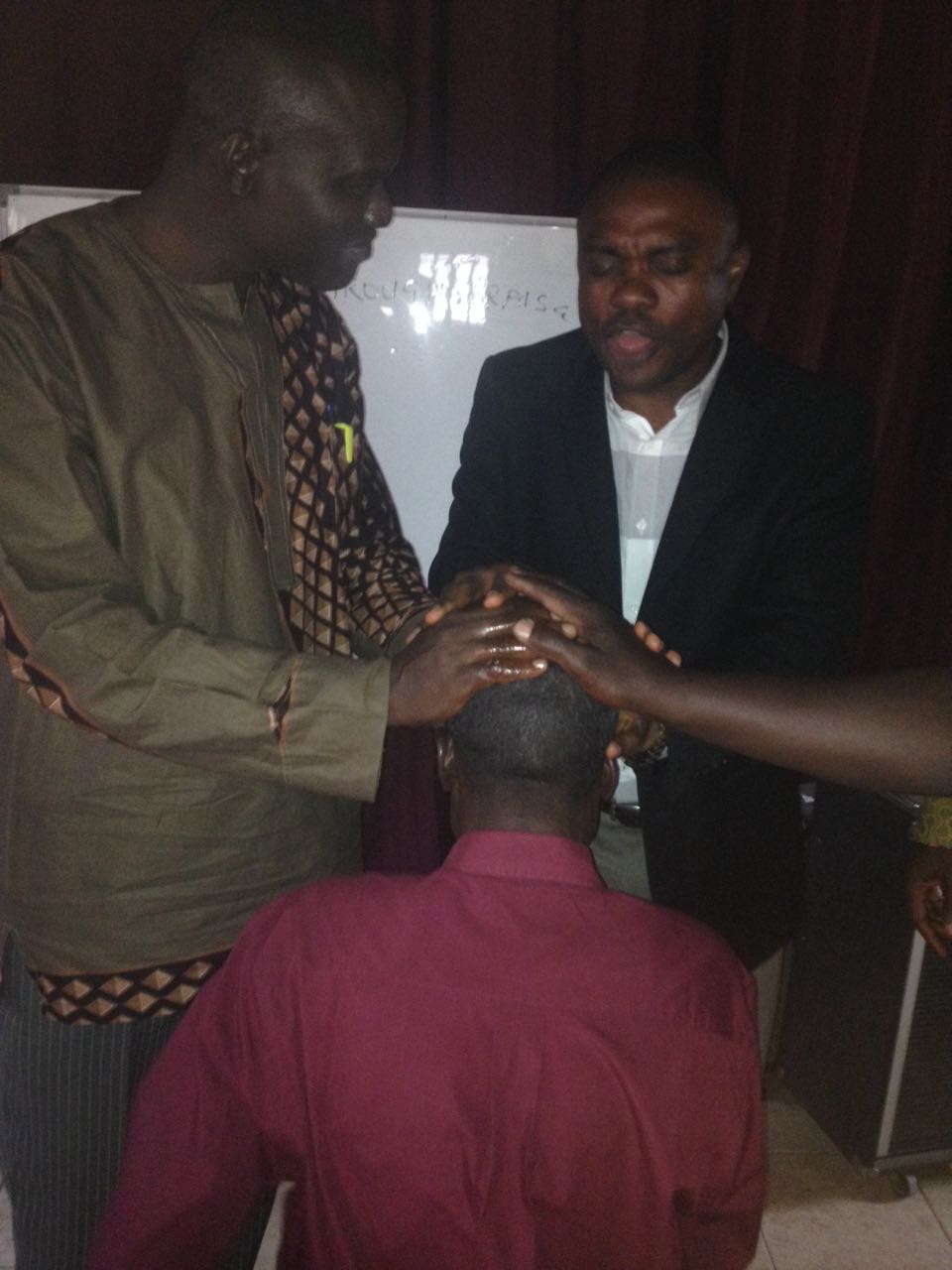 those who had labored amongst us." They all stood up and apologized, asking God for mercy. I had asked for a reconciliatory embrace, and feet washing between Robert Ojangole and Abraham Louse, but at that point it was clear that Abraham did not want the peace. I then asked Robert to attend the Sunday service to see what the reaction would be like, which he did; and when things were not moving forward, I invited Robert Ojangole to Kampala where I prayed for him before some witnesses before our departure to Kenya.
MUKONO MEETINGS (17-Dec-2016)
We left Moroto at 5:30am for Kampala because we had made a promise to the saints of Little Flock Church there, to attend their all-night Friday prayer meeting. En route we drove to the home of Bro. Difas in Mukono for a rest before we proceeded to the meeting. The following day we rested, and on Sunday we were driven back to Mukono church for the Sunday service by Sis. Rebecca Omal, along with her children.
The church was divided even before the death of Pastor Lubega. A section of the church had embraced the message of the self-acclaimed lead apostle (in Nigeria) who also claims to be the John of Rev 10:11.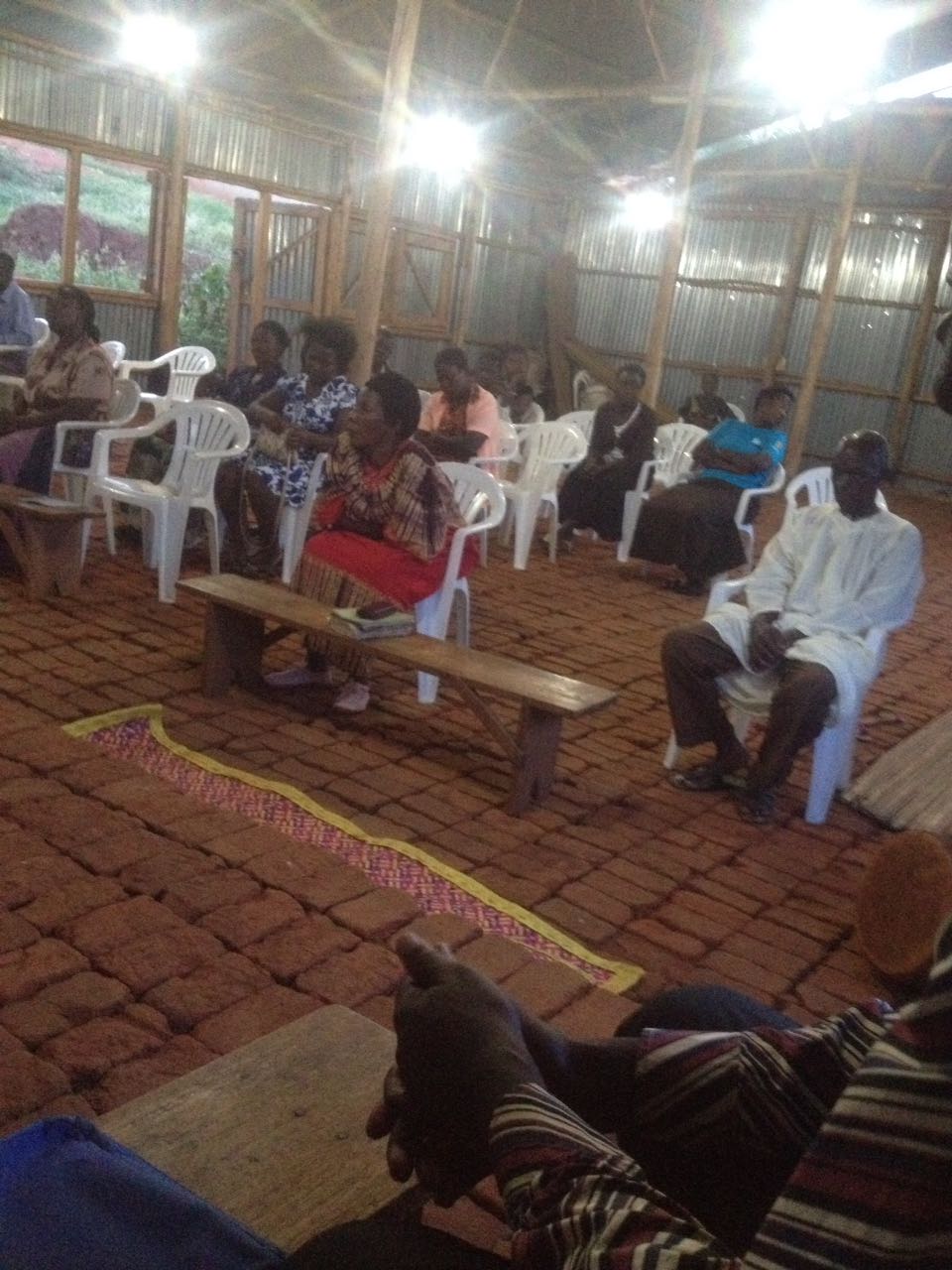 Prior to my visit to Mukono church our brothers, Moses and Ugochukwu, had visited and preached there, they also answered pressing questions but requested my presence as one who was well known among the old timers. Upon my arrival, I was told that the present pastor, Bro. Timothy, is seriously challenged as his wife had chosen to go with her family members to this 'John' group.
The first sermon I preached was 'The Testimony of Paul' and our text was drawn from 2Cor.12:1-15. The subject of the man who was caught and the credibility of the apostleship of Paul were the main focus. After that many asked questions bothering on the teachings of the lead apostle, and by the help of the Holy Spirit, answers were given from the scriptures. I want to thank the Lord for renewing that old time sweet fellowship between the Mukono church and the church in Kampala.
ELDORET MEETINGS (21-23-Dec-2016)
Traveling from Kampala to Eldoret was quick and easy although we did not have a comfortable van to drive in, but it was safe and lasted a total of 8 hours including the stopover in Malaba, the border. As usual we received special treatment as Nigerians, nothing to complain about. Though delayed we reached safely and were connected with our host Bro. Kimani Njugo.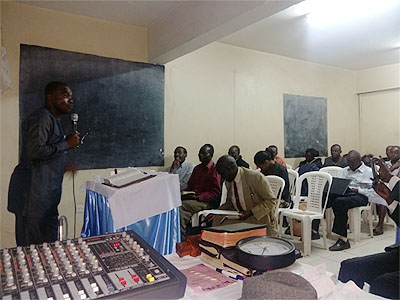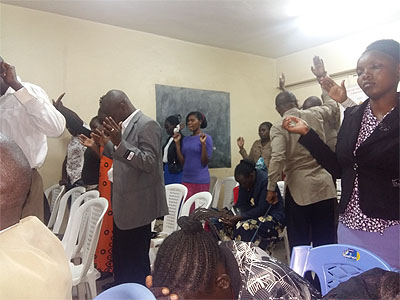 BRO. NICE MINISTERING IN ELDORET, KENYA BELIEVERS PRAYING IN ELDORET, KENYA.
Two meetings were held in Eldoret and we were re-united with precious brothers in the faith like Pastor Silas whom God had blessed with great strength for the work. We left Eldoret late morning on Friday for Nairobi, where we would hold the last set of meetings before returning home.
NAIROBI MEETINGS (23-27-Dec-2016)
The journey from Eldoret to Nairobi lasted for seven hours including the stopover.
Bro. Godswill and I were really fascinated by the free view of wild life as we traveled. In Eldoret, Bro. Kimani told us that a minister in Nairobi will contact us. It was clear that the said minister they had in mind was not a willing host, and of course I am used to such resentment everywhere. There was another pastor and his group that were willing to close meetings in order to be in fellowship with us wherever we would be. It was this church that finally received us for the next 4 days and we saw the manifestation of the power of God. We moved into a hotel in the heart of the city having been received by Bro. Paul. He was very useful to us in the area of movement from the meeting place to the place of lodging.
Dreams and Revelations
Having traveled almost the whole day we came in so tired and just gave thanks before going to bed. I was awakened by a very strange dream followed by some instructions.
I saw in a night vision that I had visited a family, but the woman of the house seemed to have left the man. He had 2 children a boy and a girl, and the little girl was crying. As the husband was yet talking with me, the wife came in and I asked her why she had taken such steps in leaving her husband. As she tried to explain, there was an interruption from a Pentecostal woman that appeared to be a friend of this family. She was unable to open up because of her presence. I then began to speak to her as though her husband were a minister of the gospel; that she was bringing shame to her husband and the ministry.
I finally led her outside the house and she then complained that everyone is apportioning blames but none cares about what she was going through. She told me her husband was not caring and that he was impotent in his body. In shock, I asked if the children were not his, she said they were; that it happened after the kids had come. I told her that that was not a reason why she should betray him, for she could seek help instead. She then told me that she had a man who was a neighbor to the family and was a repairer of some sort of electronics stuff. As she was about to point me the man's house, I woke up shouting, "Godswill, Godswill! What kind of dream is this?"
I shared the dream with Bro. Godswill, and after we prayed we prepared for the meetings. I told Bro. Godswill that I was sure this dream pertained to no one in the Lagos church. I wanted to call Bro. Obwoon to ask if such a case existed in Uganda or in Eldoret, but I thought nothing about the Nairobi churches we were visiting because we did not even know where we were going.
The following day (Saturday) Bro. Kimaru, the pastor of the local assembly introduced us to the church. I started by sharing the dream with the little assembly of believers but it seemed to make no sense to them either until the Lord followed up with 2 more visions that gave a lead to what was going on. The intended 2 days' meeting was extended to Monday and we were holding 2
services each day. The Lord perfected His work as the dreams and visions were made clear to the assembly, the pastor acknowledged the problem and promised to deal with the situation.
Bro. Godswill Dagbo was invited to minister at Bride Restoration Tabernacle on Sunday morning in the very heart of Nairobi. The Pastor, Bro. Edwin, and some of the elders/trustees of the assembly having been blessed decided to join us for the afternoon fellowship in the church of Bro. Kimaru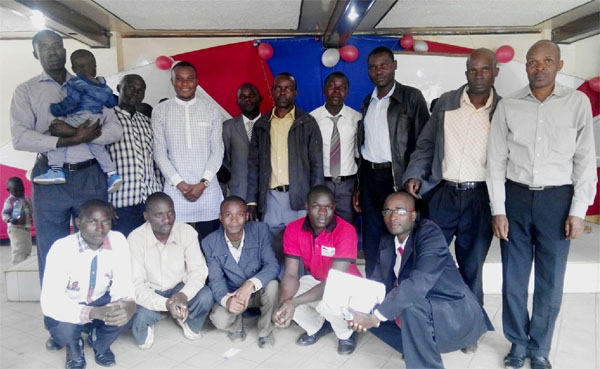 Bro. Godswill and the ministers and some Brothers at the Bride Restoration Church, Nairobi
I appreciate the Lord for bringing together different pastors and elders from different parts of Kenya to fellowship with us. I was glad to be reunited with Bro. John Mburu from Naivasha, Kenya. We met last at the 2008 convention in Kampala, Uganda.
Another pastor from the border Kenya and Tanzania Bro. John Wambura of Mabera Believers Church in Western Kenya county.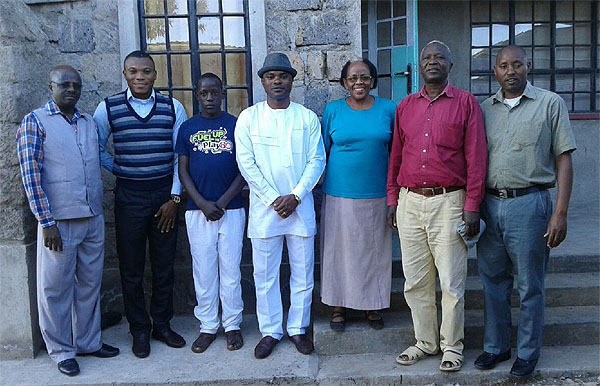 Br. Mburu, Godswill, Njugo Jnr, Nice, Sis. Dorathy and her husband Kiarie, Bro. Paul

BACK TO LAGOS
Having successfully circuited our journey around Uganda and Kenya, our mission was brought to an end, although there are vital issues to be handled in Nairobi; we had to leave that for another time. We left Bro. Kiarie's home in the outskirt of the city Nairobi but which was nearer to the airport. Though our flight was delayed 2 hours, we had a peaceful flight back to Lagos, Nigeria, arriving at 7 minutes past midnight. My wife, Sister Blessing, was waiting to receive us. We drove Bro. Godswill to his home before we drove to ours, reaching at 3am.
CONCLUSION
To God be the glory, great things he has done and greater things he will do for his saints on this side of the river. I want to thank the Lord for prayers of the saints and the continuous Fatherly blessings we receive from Bro. Richard Gan, and Prophetic Revelation for making available materials in large quantity, especially the book titled "Revelation of Jesus Christ".
To all our prayer partners whose spirits were with us in the mission field, we truly have that strong feelings that our names were in your mouth as you were praying for us. Bro. Pierre Rouhana and the church in Lebanon, Bro.Jean-Marie Ndimba and the church in Livy Gangan France, Bro.Kolade and the church in Perth, Australia, Bro. James Willie, Bro. Maija Sako, Bro. Antonio Rouhana and the church in his house in Los Angeles, Sis. Bree and Bro. Mickey, Bro. David Curtman, Sis. Sarah Kim and other Korean sisters.
I also bless the Lord for our close associates and partners at home in Nigeria. Pastors Billy Joseph Ogundipe and Josiah Ojo, Evangelist Ben Oluwatobi and the saints of God in their care.
Finally to the Elders in our local assembly, Bros. Ikechukwu Asogwa and Okonkwo Agbai, the Deacons (Okwudili Favour Okolieze, Umahi Felix and Kenedy Uzezi), associate minsters and saints of LIFE ASSURANCE TABERNACLE Lagos Nigeria. You all have been a blessing to the mission field and I bless the Lord for your labour of love in fastings and prayers and other sacrifices. God bless you all in the Name of Jesus Christ. Amen.
Bro. Blessing Akpan Nice

Ikotun, Lagos Nigeria.

www.7thbasket.org

+234 8058321533 , +234 7036590652