THE VISIT OF BRO. JAMES VERMU
& BRO. BLESSING AKPAN NICE
TO THE DEMOCRATIC REPUBLIC OF CONGO
SEPT/OCT. 2009.
The Lord had led me, Bro. Blessing Nice, to Zambia to strengthen the saints, and the trip was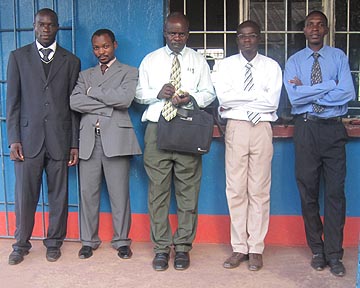 blessed with a total of 17 persons being baptized and adding to the various assemblies in different parts of the country. On the 17 Sept. 2009, Bro. James M. Veremu arrived in Lusaka from his home town in Chitungwiza, Zimbabwe.
NDOLA
We both left Lusaka for Ndola where some ministers were gathered for a weekend meeting.
We were picked up from the bus station and taken straight to the church. The meeting was about to end when we arrived. After our introduction, 2 ministers came to testify how they have been led to believe a certain 'Capstone' message of Santiago which led the whole church to applaud them. Immediately I knew we were in for a serious task.
We slept in the home of the pastor, and the next day, all the ministers present were gathered for lunch, and they started throwing words at us. I never felt like contributing because I was to minister that evening. But Bro. James Veremu was showing them by the Bible and the message of the prophet that it was NOT possible for a Gentile to take the gospel to the Jews.
Immediately after the message that evening, one of the ministers came to meet me outside and said, 'Bro. Nice, it was just monetary enticement that got me into this'. He asked me to pray for him, for he wished to listen to me in Kitwe, the next town where I was going to preach. I prayed for him, and we parted that night.
KITWE
On the morning of 20 Sept. 2009, a Sunday, I left Bro. Veremu in Ndola and went in a hired taxi for the service in Kitwe, the second largest city in Zambia. The Lord blessed the meeting by His Word, and there were healings and deliverance. One notable case was a young lady that had been insane for 6 years. Her mother and other relatives had brought her to Kitwe for treatment, and they were near the church hall. Just after the message was preached and while I was praying for the sick, she had broken her cords, and was running straight into the church and to the altar. She was coming straight for me and I ordered the spirits in her to stop. Being half naked, some sisters tried to cover her, but she was too strong for them, I got closer and laid hands on her, and when I left to pray for others in the prayer line, she fell and slept.
This young lady did not wake up from that afternoon until the next morning, around 9 o'clock. While my host and I were having breakfast, a brother of the church called, and both this lady and her mother spoke on the phone. Their joy knew no bound.
TO DRC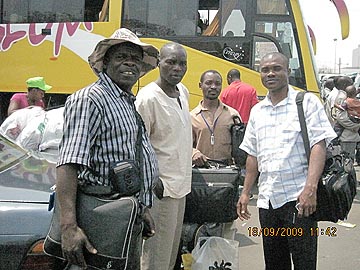 Bro. Veremu, after his meeting in Ndola (where God had used him to draw the hearts of certain strayed believers back to the Word), headed for Kitwe the next morning (Monday 21 Sept. 2009). He was at the bus station in Kitwe and I met him there for the onward trip to the border town of Kasumbalesa, DRC. We experienced the usual border corruption but were finally allowed passage. There was nobody to receive us in Kasumbalesa, so we proceeded to Lubumbashi, and again the ministers refused to open their doors. We had to find a way out for ourselves while being housed for 4 days by a family of a pastor I met in 2006 while ministering in Togo. We shared the Word with this family and their group during those 4 days before our flight was ready to depart for other parts of Congo. Bro. James left Lubumbashi for Kinshasa on the 24 Sept. 2009, and I left the following day to Mbuji-mayi.
KINSHASA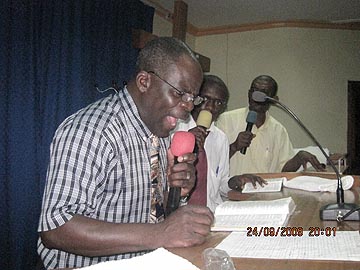 Bro. James had a whole line of programmes to take care of. He started with the Logos Tabernacle, ministering for 3 days. He was in the church of Pastor Tshiaka who hosted Bro. Richard Gan in 2007. Though Pastor Tshiaka was not in good health he entertained Bro. James' visit. Bro. James had another session with Zerubbabel Tabernacle, where I had ministered earlier before going to Zambia. Lastly, Bro James ministered in the church of Bro. Clement Bowa.
The news of Bro. James' presence in Kinshasa spread, and ministers were trying to find where he would go next to minister that they might hear him. Bro. James Veremu was a great blessing to the saints in Kinshasa, and he was accompanied always by Bro. Andre Bitua.
We did not get to meet again as he had to return to Lubumbashi to cross the border to Zambia.
MBUJI-MAYI AND MUENE-DITU
I was invited by Bro. Pontien Mukenge to minister in a small town called Muene-ditu. This small town is 112km from Mbuji-mayi, which was a mining city and very prominent in the Democratic Rep. of Congo. Bro. PONTIEN was the first preacher I listened to in Kinshasa in 2006, and he preached a message titled "I AM NOT A BRANHAMITE". We had met in Kinshasa for a second time in a convention organized by Bro. Eward Frank, after discussing some issues with him. This brother wanted me to visit and preach in his church in Muene-ditu. Since Muene-ditu was too far from the nearest town Mbuji-mayi, he talked with the pastor there to receive me and called me to him after the meeting on Sunday.
I arrived at Mbuji-mayi on Friday, and the pastor and his wife came to receive me at the airport, but somehow he changed his mind about the arrangement, and told me that they had a particular line of ministers they had to receive in their church. I took it as a 'usual', knowing it had always been the case. Unknown to me, one of the pastors who came for the convention from Zambia had warned the Congolese ministers about me. He put me in a taxi against the will of the pastor in Muene-ditu and sent me over to him. I was tired, having had neither food nor water and it was a sunny day. The journey had been tedious and long.
I arrived at Muene-ditu on the same day and the meeting was scheduled to begin on Sunday, but somehow we started that evening on Friday, and the Lord blessed the meeting both in Word and deed. News of the meeting reached Mbuji-mayi after 4 days, and the Pastor that had rejected me requested for at least a 3-day meeting, but the Pastor and Elders of Muene-ditu refused to honor his request.
On the day of my departure, after much pleading, the pastor and deacons of Muene-ditu allowed a stop-over at the house of the pastor of Mbuji-mayi, where a large number of his deacons and members had gathered to tender their apology and place a fresh invitation for the near future.
They sang a few songs, I GAVE A SHORT EXHORTATION, and we then had photos taken before they escorted me to the airport.
BACK TO KINSHASA
It has been 2 months since I left Kinshasa, and the news of the revival in MUENE-DITU had reached Kinshasa. Bro Bitua was again at the airport to receive me. He had already arranged a meeting in Zerubbabel Tabernacle, where the ministers had come to discuss issues left behind during my first meeting.
Quotes upon quotes were rolled out, and strong arguments over subjects relating to:
a) How Adam was to bring forth CHILDREN.
b) Why should Bro. Gan write on the Mark of Cain when the prophet had NOT taught on
that. We have what we need and what the prophet did not give, we do not need.
c) The message of the hour is unique; every preacher MUST stay within the confines of the
MESSAGE. Just bring it the way the prophet said it.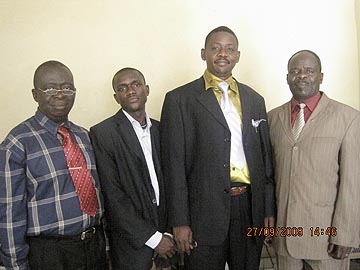 Repeatedly, these pastors were shouting at my host for opening doors for people like us, but they were kind enough to stay for the evening meeting.
God, who has never left his people without a witness, spoke to them, and some were able to HEAR WHAT THE SPIRIT SAID TO THE CHURCHES. These men greeted me with love and extended invitations to me in their various assemblies. Bro. Bitua and Bro. Olivie, my host, were very happy, but the news of the passing away of my mother in-law cut short my stay.
CONCLUSION
The visit of Bro. James Veremu to Kinshasa was a great blessing to the saints in DRC. The ministers commended his approach which was salted with much wisdom. They promised to arrange a conference for ministers to discuss some of the subjects. Bro. Bitua, who also is a forceful preacher, is making good progress, showing by the Word that the 5-fold ministry is given to perfect the Bride. News from Congo shows that some notable ministers have been responding, and asking Biblical questions sincerely; one of them is Bro. NZODI.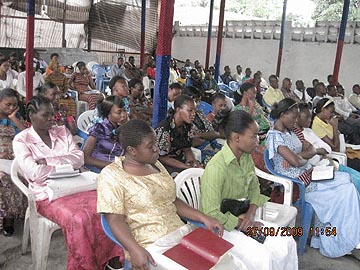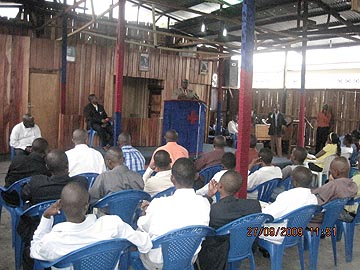 May ALL THE GLORY, HONOR, POWER, AND ADORATION be unto him who loved and gave his life for the bride, even our dear Lord and Saviour, JESUS CHRIST. Amen.
Bro. Blessing Akpan Nice,
Life Assurance,
65 Bank Anthony Way,
Ikeja - Lagos, Nigeria.