TESTIMONIES

SPIRITUAL REVIVAL MEETINGS IN INDIA
MAY 01st - JUNE 10th 2012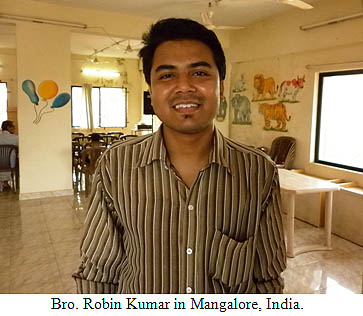 O Lord, How Great Thou Art!
John 8:17: 'It is also written in your law, that the testimony of two men is true'.

I am compelled to write this testimony of the happenings during the visitation of our precious brother Akpan Blessing Nice to India in the month of May-June 2012. The other testimonies are from those who wish to glortify God for what He has done in their lives.
During my travel with Bro. Nice, I saw the victory of Truth over false doctrines in the many cities of India, especially what I personally witnessed in the city of Mangalore. I give glory and honour to the Name of the Lord Jesus Christ. Amen.
In November 2011, I was to attend a training workshop in Oxford University, London, UK as organized by our company. But it coincided with the Khandala convention, the visit of Bro. Nice. I wanted the company to either move it before or after the convention because we had not had a convention since 2008, and our fellowship in New Delhi has heard so much about the ministry of Bro. Nice as told by the members of the Mumbai fellowship.
As God would have it I was enlisted to travel before the convention in the month of October 2011. My flight back home was just few days before the start of the convention. When members of our fellowship from Delhi reached the convention venue we heard that Bro. Nice was having difficulties coming to India and the whole camp was boiling up. The camp seem to divide into two groups, those that came because they had a taste of his ministry, and those of us who had only heard and wanted to partake of it. The whole camp bursted into prayers and many even fasted, and just when it seemed that all was over on the third day the elders announced Bro. Nice's arrival in Mumbai. The Khandala meeting was a wonderful experience for the Lord mightily blessed the body of Christ in India.
This time, it was the much awaited month of May 2012 tour of Bro. Blessing Akpan Nice around the cities of India, starting from Faith Assembly in Mumbai to Delhi, Derhradoon (Uttrakhand), Shahajhanpur (Uttar Pradesh), Ranchi (Jharkhand), South India including Mangalore, Mysore, Bangalore (Karnataka) and Pune.
Travelling and visiting nine cities in one month and preaching for two to four days in each city was not easy. There was a total of 49 sermons in a stretch besides counselings and prayers. In all of our movements, our brother never had a breakfast, and his lunch was always late or in a hurry.
Bro. Nice travelled through the regions with the following persons from Mumbai, Pastor Hubert D'Souza and Sis. Valentine; New Delhi, Pastor Pratap Singh along with Bro. Divyanshu. Later came Pastor Robin Sen from Shajahanpur after Derhadoon covention. Pastor Eliazer and Sis. Banumatti travelling from Mangalore to Mysore to Banglaore were joined by an Assemblies of God pastor, Theophilous Hoysala. Pastor Eliazer was incharge of interpretations in all of the meetings held in the South from Mangalore to Bangalore.
The very first confirmation we got was the vision which Bro. Nice told the saints in Mumbai and at the camp in Dheradum of the coming shake-up of the economy of India and the quick fall of the Indian Rupee. This vision was told to the Mumbai Church on 3 May 2012 and to those at the convention on 11 May 2012, and by the time we were leaving the the camp 3 three days later the Rupee started to nosedive and is yet to recover as at the time of this report.
I left Delhi for Mumbai on the same day that Bro. Nice was to leave Ranchi, and I had a one night stopover in Mumbai to continue to Mangalore. I arrived a day before the arrival of Bros. Nice, Hubert and Sis. Valentine. The atmosphere was not friendly as those who received us were looked upon as rebels by the Pastor's "yes" men. In the morning we heard Bro. Nice had arrived and was resting. We arranged for the meetings to be held independently and away from any church in Mangalore. We had the meetings in a rented hall as Bro. NIce so desired.
In the afternoon, at their request, Bros. Nice and Hubert were taken to the house of Pastor Raju. About 3 weeks before the arrival of Bro. Nice to India, Brother Raju, the pastor of the church in Mangalore had embarrassed our pastor (Bro. Pratap Singh) just about 4-5 minutes into his message, and told him to leave the pulpit.
We noticed that Bro. Nice has a very soft and friendly approach that made Bro. Raju and his group to think he was weak, but when they began their anti-Word idealogy, they were surprised at what they got. Bro. Nice made them look like the guest while he was the host rebuking them sharply yet with calmness. We were all surprised to see Pastor Raju and some of his followers at the meeting, after they had earlier vowed to disrupt the meetings.
Brother Nice ended the Mangalore meeting with the appointing of 3 new elders and the opening of a new fellowship for the preaching of the Word, which recorded an attendance of 11 souls on the very first meeting. As when the Word of God travels with his people and in his people it establishes things before it returns. Bro Nice made people to realize how important it was to go back to the Bible, and recognizing it as the ONLY ABSOLUTE for that was the message the messenger of this age, Bro. Branham, came to give.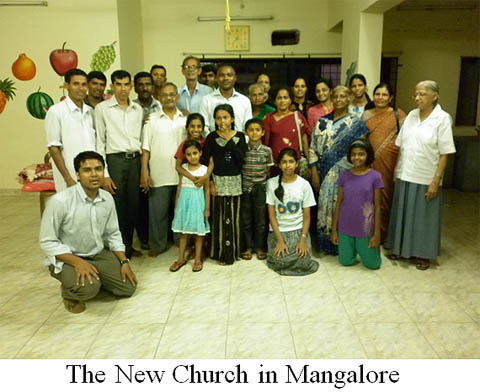 In Mysore where there was no end time message church, Bro. Nice was laying the foundation for the work ahead, as Sis. Bhanumatti offered her home as a place for the fellowship. In all these conventions and meetings many came Some received healing and went with joy in their hearts and tears in their eyes to their homes because they had received what came for.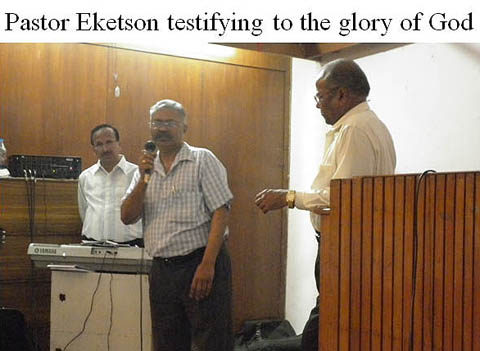 In the convention of Derhadoon a pastor of long standing in this message asked God for a vindication of the Word which was preached and God spoke to him when he came to the prayer line. He got healed and he testified.
In Mysore the two-day convention in the rural area in Shrirangapatna gave us testimonies to share. In the midst of the very interior of this rural distict was a chuch of a Pastor Hoysala Theophilous where the Truth was revealed to the unreached and people heard the truth. On the second day, many who lived far from this region had to come to attend the meeting that were not the members of the church and were touched by the truth of the Word for which they were struggling to hear from their pastors. As it is said in the scriptures John 8: 32: 'Ye shall know the truth and Truth shall make you free'.
In Banglore at St. Paul's Prayer Hall, the people gathered in a good number to hear the preaching of the Word. The visiting denominational ministers were surprised at the way the Bible was being interpreted in the light of the present truth. Many of them have in the past heard of the ministry William Branham but did not understand it due to the way it was presented to them. It pleased the Lord to open their eyes in this season to the truth and God confirmed His Word with many healings.
In Pune city it was time at last for some straight talk. As important as this city is with great historical values to its name it also marked history this time again when not just this particular city dwellers but brothers, sisters, and pastors had gathered from other cities too (Ahmednagar, Kolapur) at St. Andrew's High School. Richard Dsouza transalted it in Marathi.
The believers in India are thankful to God for sending a humble apostolic ministry to us at this time. The ministry of our brother has been of great encouragement to the weak and our churches have experienced transformation. Brother Nice stayed amongst us just as if he were an Indian, but as he said in his teaching, love is the true image of God and has no color. We trust that this report and the testimonies of some individuals stated below will be of great blessing to you all. To God be the glory in the Name of the Lord Jesus Christ. Amen.
Shalom!
Bro. Robin Kurmar
New Delhi, India.
TESTIMONIES GIVEN AT THE DEHARDOON CONVENTION HELD AT THE DOON BIBLE COLLEGE BY PROPHETIC FAITH FELLOWSHIP, DELHI
Sharon Ruhi Emmanuel. Age: 11.
Praise the Lord!
Before going to Khandala I was having bronchitis for many years. When I went to Khandala, Bro. Nice p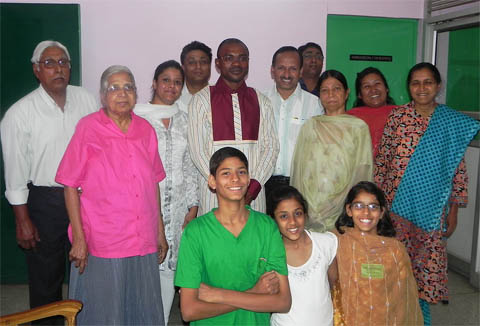 rayed for me. While he was praying something was moving from my belly to my head up and down, and that thing came out from body and I was completely healed and I ate all cold things twice or thrice a day from that time. Then when I went to Derahdoon I saw that a snake was at the door going out as Bro. Nice was praying for people and casting out demons. Then I saw that Jesus Christ was moving around the hall. I thank God that he showed me many dreams since then. The next was a stall in our school, which was for making tattoo, and my Principal was forcing me to put tattoo and fire came from the sky and burnt my Principal. I thank God by raising my hands for the healing and all the dreams.
Sis. Valentine, Bro. Nice, Hubert and His wife Flossy with the Emmanuel Family (Sharon on white kneeling)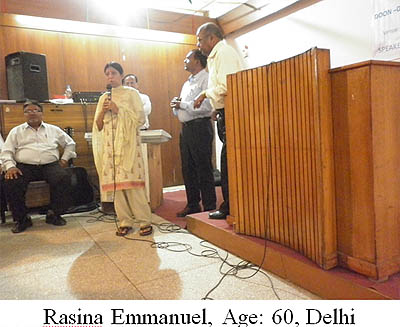 Rasina Emmanuel, Age: 60, Delhi
Praise the Lord!
From past twenty years I was having many body sicknesses, such as sugar problem, thyroid problem, cholesterol problem and cervical problem. When I went to Khandala I had Bro. Nice prayed for me. I felt the presence of the Holy Ghost and I could not hold myself as I started shivering and crying. I was healed. Then in March again I was having some other problems, and then when I went to Dehradun Convention, Bro. Nice again prayed for my healing and I was completely healed. I thank GOD for giving me complete healing.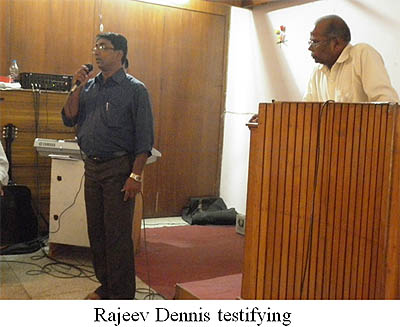 Rajeev Dennis Emmanuel
My name is Rajiv Dennis Emmanuel; I am from Delhi, India. I want to share my testimony. God indeed had sent Bro. Nice for the deliverance of our family as everyone of us have one testimony or the other. I have been in this faith for last the 16 years but I was in and out of the church for many years. I have taken the baptism in the Name of the Lord Jesus Christ 12 years ago. Still I did many wrong things in the sight of the Lord for which I suffered. But I couldn't understand why all those things were happening in my life. I did many mistakes, I was not reading the Bible, I was not praying, I was under the control of Satan.
I was busy in worldly things. God saved me many times from the hands of Satan, but in April last years it was the last time he saved me. Till last year I sin so much that when he punished me and took each and everything from me. My business, office, bike, and bank balance was empty. But when I realized my sins and asked for forgiveness from my heart and I promised that this would never happen in my life again, and that I will never leave the path of the Lord Jesus Christ. And He returned me each and everything back. I think, he didn't, but he restored all the things. Even though I have taken the baptism, I smoked and I also took Holy Communion. But one day when my wife read in our one of the message of Bro. Branham -- that it is wrong if you smoke and drink and you take Holy Communion. After reading this I didn't go for the communion and told my pastor also, and he said, don't take communion but come and listen to the message, there will be a day when satan will run away from you.
Last year in November there was a convention in Khandala, our whole church went to attend but my family and I could not go because of financial reasons. Bro. Nice was the preacher ministering in this convention. My brother took some hankies on behalf of my family, after returning back my brother gave me the handkerchief and said just believe in the Name of the Lord Jesus Christ. I received the handkerchief and prayed to the Lord that the desire of smoking and every other dirty habit be cast out from me and clean me. I praise God that from that day I have quit smoking, which was my habit for the last 20 years. And today I don't even like the smell of the cigarette, and for the past 6 months I cannot stand it. I lift up my hand and praise God for healing me.
I just want to tell everyone to believe in the Lord JESUS CHRIST, have faith in him, walk in his path, and obey his commandments. He is the only one that can give ETERNAL LIFE. PRAISE THE LORD!