My Visit
to
INDIA, SINGAPORE, PHILIPPINES, FIJI CAMBODIA
19th March to 20th May 2009
Bro. James M. Veremu

Before starting my India trip I had need to visit Zambia which I did by starting on the 11th of March 2009. I was accompanied by my wife and two other brothers from my church. We traveled by car, arrived in Choma a small town in the Southern Province of Zambia at 2200hrs. Pastor Mawino, a local pastor received us. On the 12th and 13th we had services at his church and a sister church, about 10 kilometres from Choma, pastored by Bro. Gilbert Skalundu.

Saturday saw us off to Lusaka, the capital city, accompanied by Pastor Mawino, for the wedding of Bro. Andrew Phiri, a young minister who is very zealous for the Word. We arrived in the evening and I parked my car in Bro. Andrew's parents' compound in Mutendere, a suburb in Lusaka. There was a wall around the compound and the gate was locked. We retired to bed with all sense of security. It was only around 0445hrs, Sunday morning, that Bro. Andrew woke me up with the news that thieves had broken in and stole all my car wheels, spare tyre, car jack, tool box, 20litre jerry-can with fuel, my camera and other small items that I left in the car. We made a police report which was just a formality, knowing they would not be of much help. We then proceeded with the wedding which I was privileged to officiate.

On the morrow, Monday the 16th, I had to find wheels for my car since I had to leave for my trip to India the next Wednesday. So together with the two brothers who had come with me from Zimbabwe, we went to an ODDS and ENDS market in downtown Lusaka. They call it Soweto after a South African township known for its crime infested life. We were joined by three other local brothers and Bro. Cryden Mapini, a deacon from our church who was in Lusaka on business. I bought 4 rims at about US$7.00 each. then went on to look for used tyres. We came to a stall for used tyres, and while searching for good ones what did we find but all my 5 stolen tyres. Their asking price I could not even afford. We were all short of words for glorifying God. We contacted the police and were able to recover even the rims. We fitted the wheels and were soon on our way back home, still praising God.

On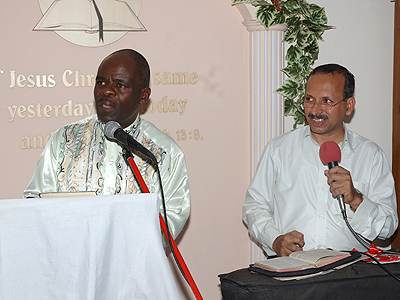 Wednesday the 18th I boarded the plane for India. At 0700hrs I arrived at Mumbai airport to be met by Bro. Hubert D'Souza's wife and another brother from his church. They took me by taxi to her home where I lodged during my stay in Mumbai. Meetings started in the evening at Faith Assembly Church where Bro. Hubert is pastor. On Friday afternoon, Bro. Richard D'Souza from Central Bombay took me to his home where we had a wonderful time of sharing the word with some sisters from his church. In the evening it was back at Faith Assembly Church once more. We had services till Sunday afternoon. A pastor, Bro. Frank, together with some of his flock came some 300KM to attend the meetings. They had such a blessing that there was talk of having more next year at a more convenient place and time. Sunday evening we held a joint fellowship at the YMCA INTERNATIONAL HOTEL in Central Bombay with believers from Bro. Richard's and Bro. Hubert's assemblies.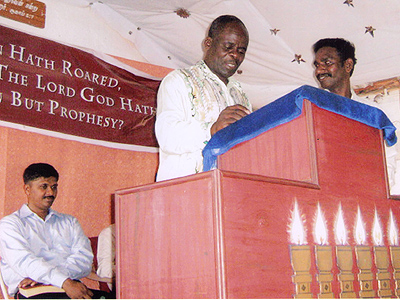 Monday 23rd - I caught a flight to New Dehli where I was received at the airport by Bro. Pratap Singh, the pastor of the church in New Delhi and Bro. Stephen, the son of Bro. Suresh Kumar, an Elder in the church. They took me to Bro. Kumar's house where I stayed during my stay in Delhi. We had four services in all in Delhi which were such a blessing that they were talking of more meetings next time with all the sister churches in the outlying areas of Delhi. All the services we had in Delhi were conducted in homes of believers. This would give opportunity to the neighbours to come and hear the Word because I was from another continent.

On the 28th of March I was on the plane to Coimbatore, a city in South India. I was met by Bro. Shadrack Arjun, the pastor of the local church in the city. He is also doing a great work among the tribal people in the outlaying areas. He took me to his home where I stayed during my time in the city. We had three services in Bro. Shadrack's church. One of the ministers of a church in the Tribal Areas came for the meetings with his wife. We also went together with Bro Shadrack, his wife and an Elder in the church on motorbikes to another town, 70km. from Coimbatore, for a service.
On April 1st, before catching the flight for Singapore, I had a service with the youth of Coimbatore church in the evening which was quite a blessing.
I arrived at Changi International Airport at 0700hrs on April 2 and was met by Bro. Gan and Bro. Paul, an Elder of the church. They took me to Bro. Kathirasan's house. We had 3 services in Bro. Gan's church, joined by those from Bro. George Matthew's.
On April 7th, together with Bro. Gan we left for Manila, Philippines. We were met at the airport by Bro. Felimon Togonon and had a service with some believers who had gathered in a home for a Bible study.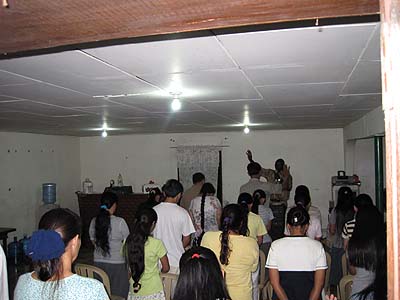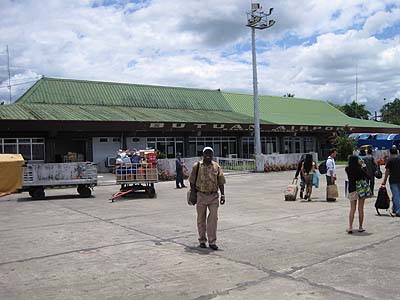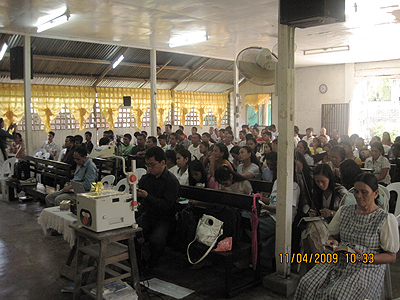 On the morrow we left by air for Butuan City, a town in the south, for Easter Holiday Meetings. We were met by several local ministers and Bro. Orsel Dumanon, the pastor at whose church we had the meetings. We had a good time of fellowship. I shared the pulpit with Bro. Gan for the 12 services we had. The Easter meetings were quite a blessing for the teaching of God's Word was in a very special way. There was a progressive revelation flow of preaching though the pulpit was shared by two speakers. The gathering was composed of believers of various churches from the city and the outskirt. We also had an open question time which yielded good result.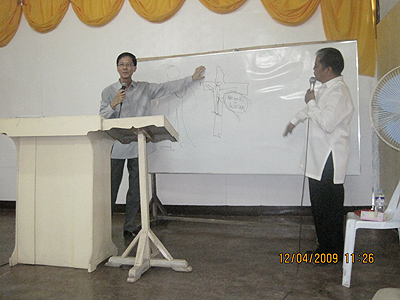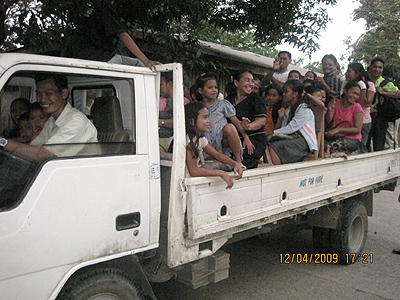 Monday, April 13th, Bro. Gan left for Manila, enroute to Singapore. I remained with Bro. Orsel. On the 14th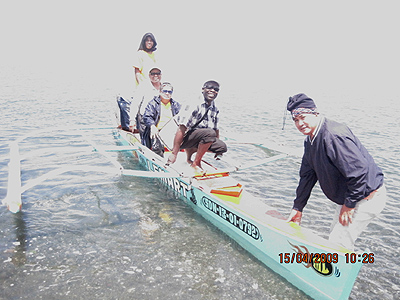 Bro. Orsel, Bro. Nelson, an Elder and I, drove to Davao, a city 250km from Butuan. We had 2 services with 2 churches which came together in one place for fellowship. April 15th saw Bro. Orsel, Bro. Lito, a local pastor and I, going to Sohoton, a fishing village 2hrs by a motorboat from Butuan. I had been in this place 10 years ago and how it thrilled my heart to see the saints still holding on and being blessed in the growth of both spirit and number. The believers in this small fishing village used hired fishing boats the last time I was there. But this time God did bless them so much that nearly every brother has his own motorboat, by which we used to ferry us here. They have now a good sized structure for fellowship. We had 2 days of services.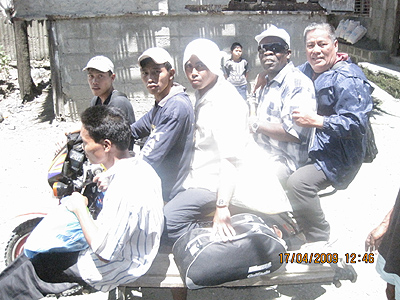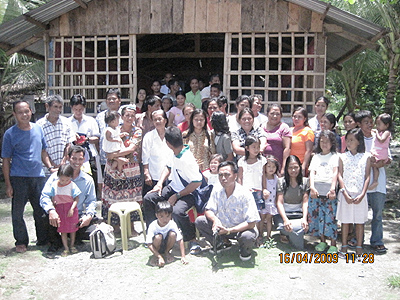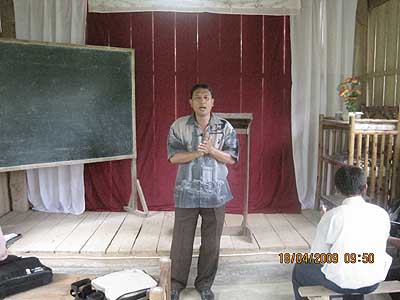 Bro. Orsel and I left Sohoton on the 17th. He was now my Guide and Companion through the rest of my trip in the Philippines. From Sohoton we took a boat, about ten minutes ride to another fishing village. There we took a motorcycle. (The motorcycle is modified to carry about ten people.) But this time we were only four passengers. We rode for about ten kilometres on a very rough terrain on hilly countryside. On a very bad part of the road, the driver lost control and we fell in a heap and I received a burn on my right ankle from the exhoust pipe of the motorcycle. (I was happy that now I can say, together with Paul, I bear in my body my suffering for Christ.

) This motorcycle took us to a place where we boarded another motorcycle which took us to a p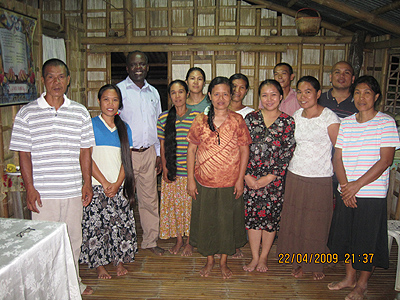 lace called Eili Malimono where we boarded a bus to Surigao. From there we took a ferry to Bontoc, a town in Southern Leyte Island, a voyage of 4 hours. Bro Obbus, the pastor of a church there met us and lodged us in his home. We had 2 services in his church and the next day we went to an outreach outside Bontoc and had 2 services as well.
April 19th, we boarded a ship for Cebu from where we took a plane to Iloilo, a city also in the south. We were met by Bro. Andrew Durano, the pastor of the local church. He took us to the home of Bro. Allan where we lodged and held 2 days of meetings. It was a wonderful time of fellowship. Bro Allan and his wife were such a sweet couple. Together with the saints they gave us a marvelous hospitality.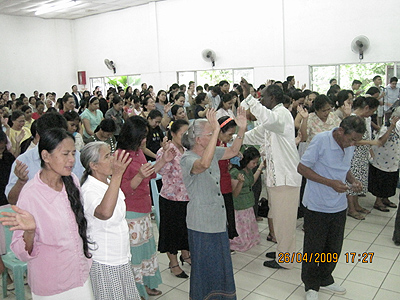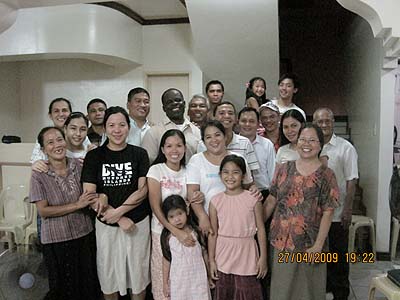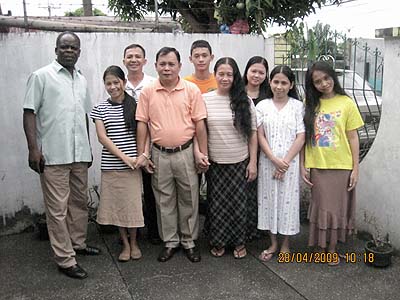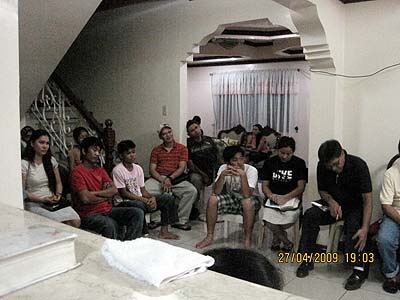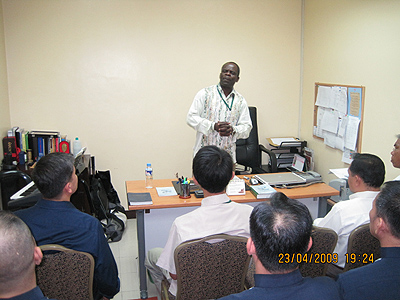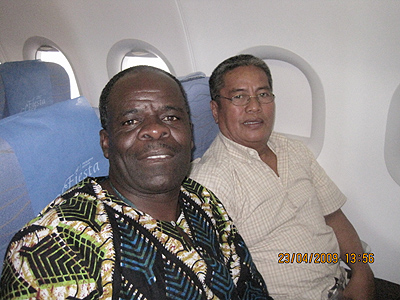 Thursday April 23rd - we took the plane for Manila. We had 2 days of services at Bro. Felimon Togonon's church/ Then on Sunday the local churches of Manila and the surrounding areas had a whole day Joint Fellowship and we had a wonderful time of fellowship for that whole day.


On Monday, Bro. Orsel returned to Butuan City and I remained in Manila. In the evening we had a house fellowship in one of Pastor Felimon's church member's house and what a hearty farewell it was that they gave me. On Tuesday morning I flew to Singapore. I was met again by Bro. Gan and Bro. Paul. We had services on Saturday and Sunday.
On Tuesday May 5th, Bro. Gan took me to the airport for my flight to Fiji. A shock greeted us at the check-in counter. We were told that a transit visa was required for passengers of the Third World countries who are transiting at any Australian airport. The travel agent from whom Bro. Gan had purchased the tickets had confirmed to him that a transit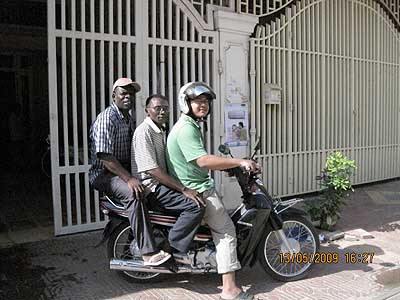 visa is not required for certain cases (Zimbabwean passport holder is considered) if transit was in the day time. Apparently, the travel agent made the mistake. After some deliberation about the possibility of obtaining a transit visa, the time involved and because I hold a Zimbabwe passport, Bro. Gan decided to cancel the trip and asked if I would, instead, go and minister in Cambodia where a Cameroonian brother is at present starting to establish a fellowship.

Arrangement was made and I flew on May 8th to Phnom Penh, the capital city of Cambodia from Changi Airport Singapore. When I arrived at Phnom Pehn Airport I got the entry visa without any hassle but got a bit of a problem with an officer who asked me to pay USD10 for stamping my passport to which I refused. After some "tug of war" he gave in, stamped my passport and let me in.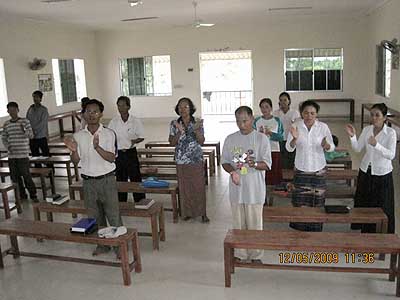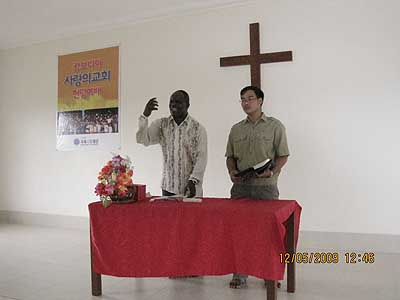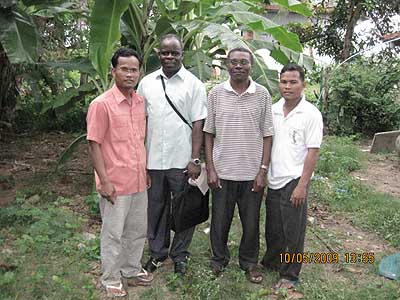 I was met by Bro. Kim Eang a Cambodian brother and Bro. Israel. Bro. Israel is in the country by a call of God to preach the Message. He has been in the country for about nine months now and God is doing a great work through him. He is very faithfull and committed to the call. They took me to Bro. Eang's house. After dinner they checked me into a guest house. We had a house meeting on this day and the next in Bro. Eang's house where we shared the word with the few brothers and sisters who stay in his house.
Sunday we went to a village about 88km from Phnom Pehn there we met Pastor Chuch Mon a local minister and we had a service in the village church. We went to pastor Mon's house where we found his mother down with a fever. We offered prayer for her and praise God the next Tuesday she was at church praising God. On this Tuesday we were at church and had a morning service. What God is doing in this part of the world is wonderful. There is a lot of spiritism and witchcraft belief but God, through Bro. Israel is bringing to light the essense of the gospel. People are seeing the reality as opposed to a theory of God. Bro. Israel really needs the support and prayers of all who, by the grace of God, may see the need in this part of the world. I could have gone into the country side where "MACCEDONIAN CALLS" are abound but time was not my best ally. When I left, Bro. Israel was preparing to go out there. There is really a work that God is doing out there, and my visit was quite an encouragement to the saints, especially Bro. Israel, who is of the strong opinion that he is not the only pebble on the beach in this work.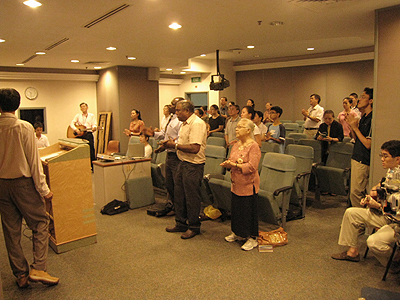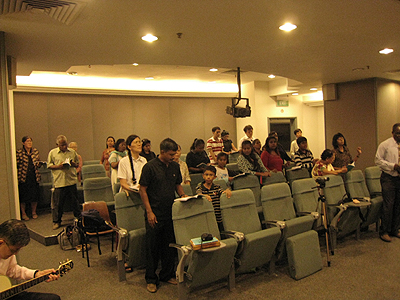 I returned to Singapore on the 14th for a few more meetings with the Singaporean Saints before leaving for home.
God bless.