INDIA – New Delhi, Mumbai & Coimbatore
1-16 October 2008
A Brief Report
My previous visit to India was in February 2006, and it was certainly nice to meet up with brethren of like and precious faith again after some two and half years.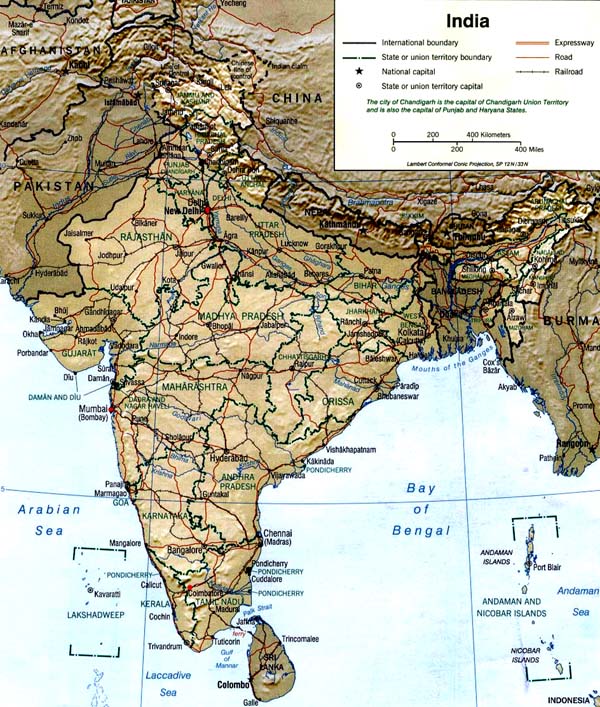 I arrived in New Delhi in the late evening of October 1st, a day before the 3-day meetings were to begin. The meetings were held in a Baptist church-building within a walled-compound, an area not far from the old city of Delhi. This compound had security for safety reasons because of several recent attacks on Christians from misguided and extreme Hindus.


Most of the attendees were believers and it was good to see three believers from the state of Punjab. Before the meetings ended, I was approached by the Punjab believers to come minister in their state early next year, the Lord willing.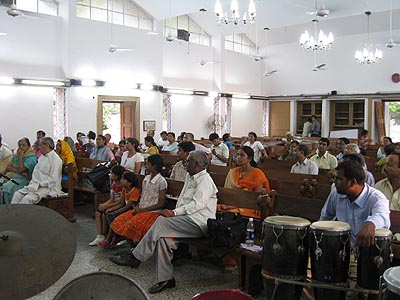 Bro. Pratap Singh requested that I delve deeper on the subjects of the Godhead, the Church and End time prophecies. I did so, with Bro. Suresh as my interpreter. Many were enlightened on certain "difficult to understand" passages of the Scripture as the Spirit shone light upon them.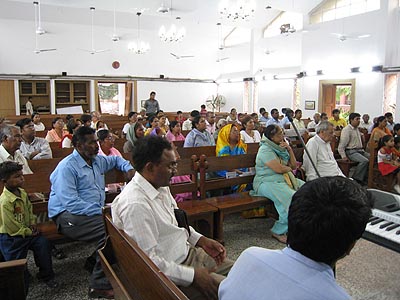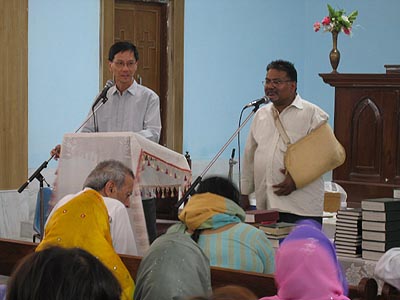 The third day saw me coughing away as I caught an infection that affected my throat and sinuses. This infection was with me throughout the rest of the trip and just before returning home because there was not much rest between preaching sessions, giving no chance for the infection to subside. The Lord however sustained me with His strength.

The hotel I stayed in was a small one but the water supply from the taps was hard water. After showering, it left a layer of fine mineral deposits on my skin. It was an uncomfortable feeling and caused me to itch. Most hotels in that area near where the meetings were held used such water. The bigger and more expensive hotels (4-stars/5-stars) use filtered water.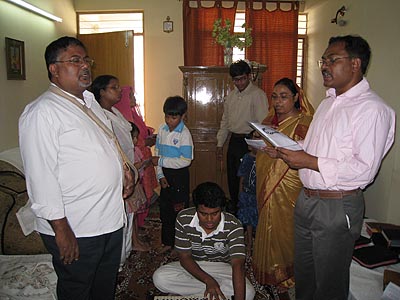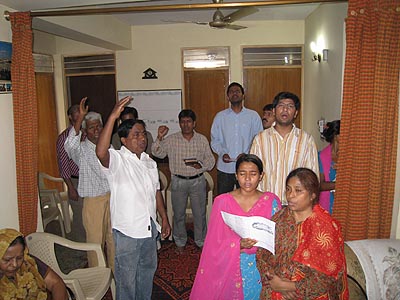 On October 5th (Sunday), the little assembly gathered together in Bro. Suresh's apartment for the breaking of bread. There was a new family of converts from Hinduism. They were water baptized not very long ago. The young girl (the daughter in the family) showed a great hunger for the Word. After the breaking of bread, lunch was served and we had further fellowship around the table.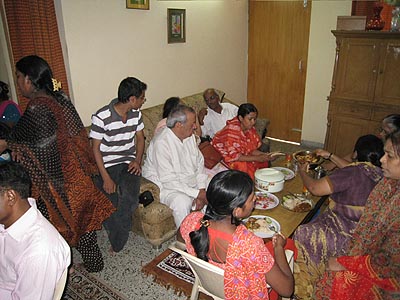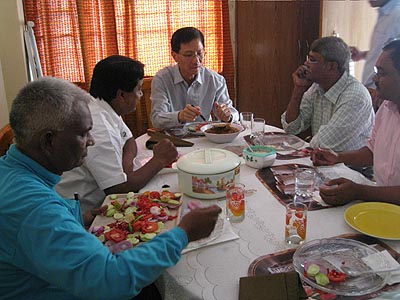 * * * * * * *
Mumbai was the next city. I flew there on October 6th, for three evenings of meetings in the Borivili (West) area. As usual, Bros. Hubert D'souza and Richard D'souza and their flocks came together. Several believers could not come because it was a period when some schools were conducting examinations. But there were several ministers and believers from Ahmednagar.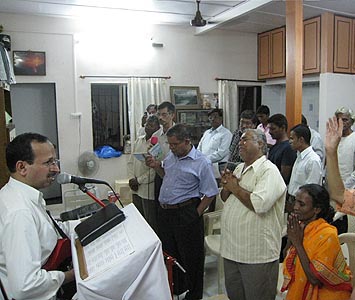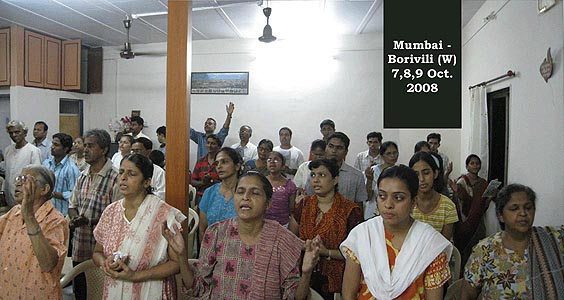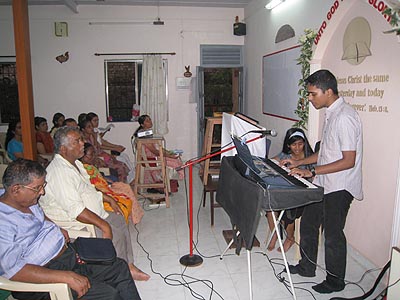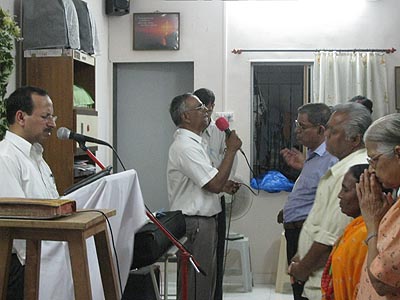 * * * * * * *
On October 10th, I left for the airport to catch the noon flight south to Coimbatore. This city brought back memories of the first time I was there in 1996, where I met a young minister called Shadrach Arjun. The life of this young man, together with his church, took a turn for the worse when they were deceived by the charm of a false prophet who came to them disguised as an angel of light. This false prophet mesmerized and bewitched the church and then manipulated the members with deceptive teachings. They were under a spell that was more than just that of a nicolaitan spirit. I suggest you read:

I was picked up from the airport by Bro. Shadrach and his father-in-law, Bro. Vally Serrao, to their rented home which is two houses built side by side. Bro. Vally and his wife live in the first, and Bro. Shadrach with his wife Benita and his mother in the second.
Bro. and Sis. Serrao let me have the whole house (almost) to myself. I was treated well by the sisters who made sure that I had enough to eat. (My, do they know how to cook... South Indian style!)
The Vallys lived previously in Mumbai but moved down south to Coimbatore to be a part of Shadrach's ministry.
My stay with the family was very pleasant.
The following two days (Saturday and Sunday) saw two meetings per day, morning and evening. Some 20 believers were to have come from a village but due to a sudden passing away of someone in the village, the majority could not come for the meetings, though there were a few ministers that came from other places.

The little church building was situated up on top of a hill, a squatter village for they had to walk about 20 minutes uphill from the artery road.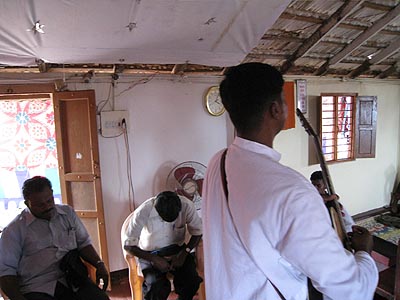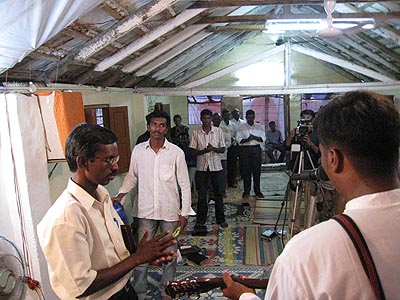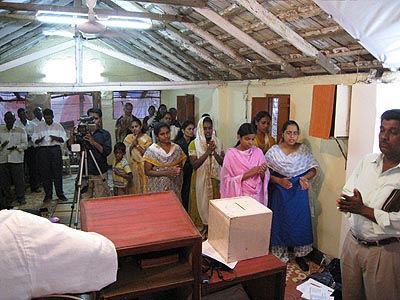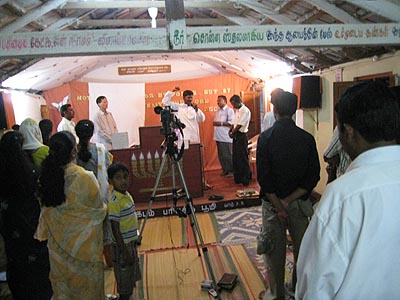 Various important points on major doctrines were touched on in the 2 days of meetings so as to establish and strengthen the faith of the saints who have gone through much trials and temptations in the last few years.

October 13th and 14th were spent on visitation to assist a believer who had a desire to start an assembly in his home town about an hour's drive from Coimbatore.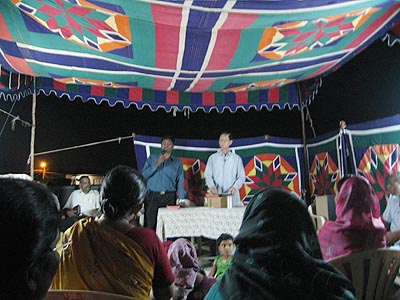 The throat and sinus infection I had was by this time cleared up, leaving me with just a slight itchy throat. In the late evening of October 15th, I left for the airport, for a midnight flight home.

Bro Shadrach has updated his testimony.
Go to: I Was Delivered From The Power of Darkness.