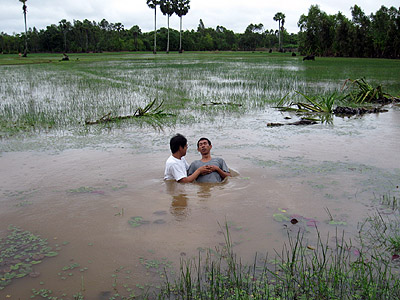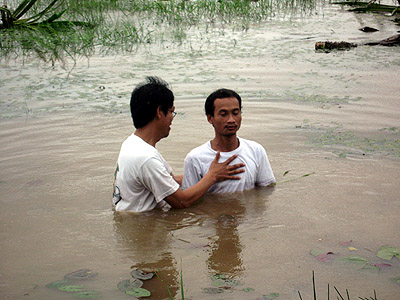 By 10:am we reached Phnom Penh. Bro. Gan refused to use the same Regal Hotel, which charges US$30 per night. The hotel not only rundown but also sleazy. We found a cheaper hotel that is clean and cheaper by US$10, but it was fully occupied. (Hotels have increased their rates by US$5 to US$10 since the last 3 years.) The popular hotels near tourist haunts around the Riverside, where the Palace is located, charge not less than US$45 a night for a single occupancy. We found one that is near to the first hotel which charges $35. We were surprised to find that the room, though small, is almost like that of a 5-star hotel.


June 13

After breakfast we drove to Kampong Cham province, about an hour's ride away. We got there at 11:00am. We immediately started the meeting. I gave a few words of exhortation and sang a song with the believers. Bro. Gan then taught the Word until 1:30pm. Drawing from Isaiah chapter 55, Bro. Gan touched on Faith in God's Word, about the Thoughts and Ways of God in dealing with His elect. There were about 20 people, mostly adults that came from different places in the province.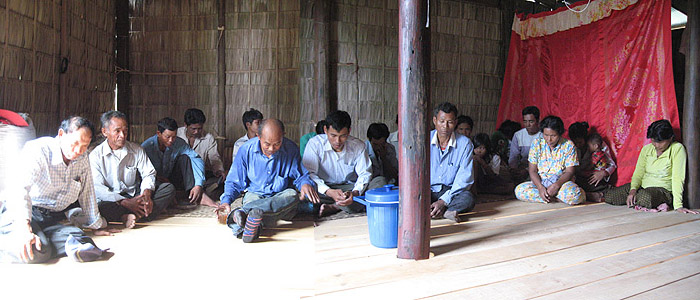 We had lunch where we sat and fellowshipped. After we ate I asked for testimonies. Bro. Con, a leader in the church, whose house we were in testified of God's grace to him in providing him and his family that particular house. He could not have built it without the Lord.

As soon as the meeting ended we got out of the house as the weather was hot and humid, the temperature being about 33 degrees Celsius (or about 90 degrees Fahrenheit), for in the house without windows it was hotter. We took a walk with a couple to their home to see the blessings that God had given them.

June 14

We paid a visit to our driver's NGO "APCA" - Assistance to Poor Children's Agency - at Kompong Spue province. The place is run by his brother-in-law. The orphanage at the center had more than 40 children, aged from 3 years to 17 years. I spoke to them about Jesus Christ and His salvation and brother Gan taught them a simple English song, "Jesus Loves Me This I Know".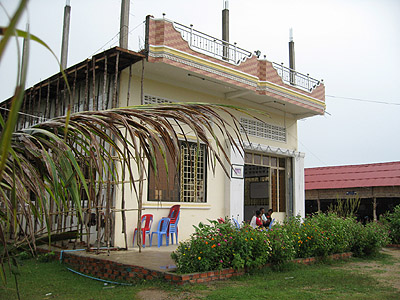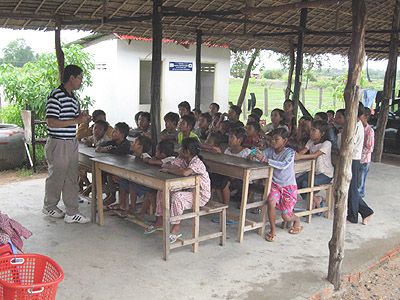 We returned to Phnom Penh around 4:00pm. Because of the unavailability of a car, Bro. Gan and I discussed the options regarding the rest of our trip to the northeast, the hill areas of Banlung (Rattanakiri). Car rental companies (like Avis and Hertz) have yet to exist. To hire a car, one would have to look for an owner who was willing to rent. Not only that, the owner himself will do the driving. He will not leave his car to any stranger. The journey there would also take some 10 hours and half of the road is dirt and winding. The cost per day is about US$100, maybe more for a 4-wheel drive type vehicle (easier to maneuver up hilly dirt road). Taking a bus would be cheaper but would have taken a longer time to get there and more tiring.

Bro. Gan felt it unwise to spend some US$400 seeing that he does not speak Khmer and that I have yet to really settle the believers since I left them in 2005 for the USA. The brother who is supposed to help them fell into carnal desire and failed in the work.

So we decided that I should be with the hill people for some days to help them with more of the Word of the Lord than just their basic foundation of It. I plan to return to that field in Cambodia and will have to come back in October again. Please pray for me that my whole family will also return as soon as possible to our motherland, Cambodia.


June 15, Sunday

We took the opportunity to minister to 7 people right after breakfast at my in-law's home. They claimed to be Christians but Gospel Truth is not something many of them manifest in their life.


June 16, 7:44am

Bro. Gan left the hotel for the airport to standby for the flight. He was confirmed and checked in. We had noodle soup for breakfast together and then bade each other farewell with a hug.

~ ~ ~ ~ ~ ~ ~
Report Updated on 27 June, 2008


June 17

Back in Phnom Penh, while I was writing the report to Bro. Gan and praying for God's direction and to have someone with me on the journey, I received a phone call from Bro. Mao Sorphon from Svay Rieng province. I invited him to join me for the visit to the northeast of Cambodia to Banlung Rattanakiri province and requested him to come immediately for a visit to Kampong Thom province first.

Bro. Sorphon arrived at 12:30pm. We went straight to seek for any means of transportation that would take us to Kampong Thom. We found a van but had to wait till it was filled with passengers. We finally moved off at about 2:00pm in that packed non-air conditioned van and reached Pari Kampong Thom at 5:00pm.

In this area where the believers gather, an uncompleted church building (built by Korean missionaries) stands on the land. When we got there the people were watching a movie of a Bible story on a TV monitor. Years ago, before I came to the Message, I did the voice over in Khmer for that series of Bible story that the people were viewing. (This area does not have electricity. They use batteries. Bro. Ren is an electronic and electrical technician and he helps and fixes any broken but useable appliances.)

6:30pm-8:00pm: We had a meeting for all those who could come. I taught on the fullness of God in Jesus Christ from Col.1:15-16. The flock is cared for by Bro. Ren and a young man.

That night I slept on the hard floor under a mosquito net.


June 18

4:00am: I awoke. I could not sleep. The noise of motor-vehicles (the place being by the road side) and the sound of roosters crowing and birds chirping kept me up. Together with Bro. Sorphon we packed our belongings to catch an early ride back to Phnom Penh to prepare for our following day trip to Rattanakiri . The wait for transportation was long and we arrived at Phnom Penh an hour after noon.

Rattanakiri is on the upper land where indigenous Hill Tribes live. It is located northeast of Cambodia. It takes about 12 hours to get there by car. In 1994, I planted a church in Banlung and baptized 6 believers there.


June 19

7:00am: Both Bro. Sorphon and I set off to the bus terminal to catch a bus for Banlung. Unfortunately for us, the bus was fully booked and there was no other, so we had to look for an alternative ―
a car. We found one. It was small and the fare per person was US$20.00 but the driver would not start the journey until he had the acquired a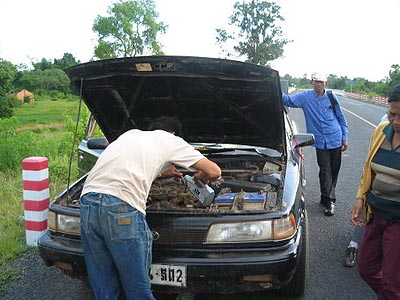 number of passengers; 2 in the front seat and 5 in the back seat. The car departed only at 9:00am. About 3 hours into the ride, the car was not moving well. An hour later transmission fluid was leaking and fast. We were in the middle of the country side. The driver had to stop the car and he went back to purchase a bottle of transmission fluid. The rest of the journey was a "constant stop and refill transmission fluid" till the bottle was dry. Fortunately we were not far from Banlung. The time was about 1:00am. The driver was able to call for a tow.

June 20
I slept until 5:00am then made contact with the Christians at Banlung on the phone. I was able to make contact with one believer to whom I had introduced the Message and also re-baptized him and his family in the Name of the Lord Jesus Christ 8 years ago. He name is Phan. He is in his 50s.
Bro. Phan came to see us and we had breakfast together. He was very happy that I had come to see him again. I shared the Word of God with him. He then left to work on his plantation (on which he grows rice, peanuts, beans and yam) which sits on the highest mountain range in Banlung.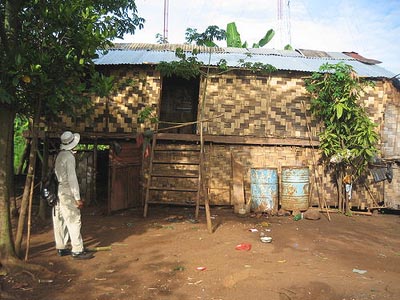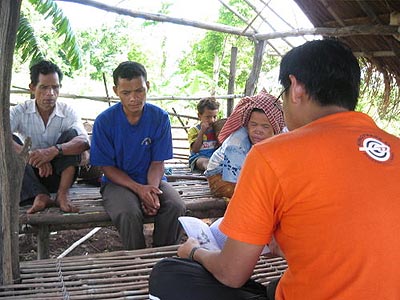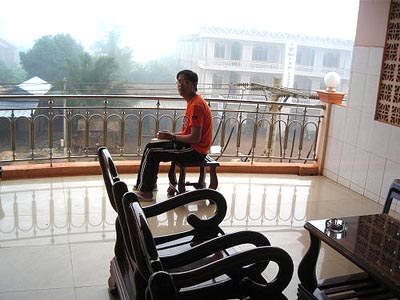 In the afternoon we went to the same beautiful mountain where he had a small family house built and had fellowship with him and his family till sunset. The city of Banlung is seen in the far distance below. I was reminded of Abraham who, unlike his nephew Lot, chose not to be living in cities.
It was a wonderful experience for me and it was only in the late evening that we walked back to our guest house where we stayed for US$10.00 a night.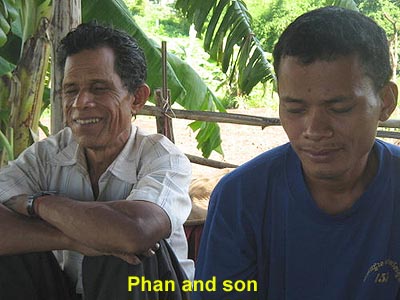 Bro. Phan has led many hill people to the Lord Jesus Christ since I had led him to Christ some 14 years ago. And though I had given him the Message of the hour some 8 years ago, I had not followed up with giving him a good foundation on the Word. The Lord has stirred my heart to take heed to the needs of such elect in Cambodia. While I slept, during this particular night, a strange dream came and I began to understand what I must do.
The dream: I was eating in a restaurant with some people at a table. I was talking about God and about the law and justice of the nation. A family sitting at a table nearby heard what I was saying. The family man looked like a VIP, as one working in a government office. The man acknowledged that what I said about justice and God was right. He called me and wanted to talk with me alone. So I went with him alone to a place where he pulled out a gun. I thought he going to shoot me but instead he put the gun to his own head. I told him not to do it, ending his life would do no good to him. I said to him, "You can live long. I can help you. Please put down the gun." Then he put down his gun. He was physically very weak and then he fainted. I carried him back to the family table. There he came to and he said, "This man can will help us; this man will take care of me."

June 21
In the morning Bro. Phan came again to see us at the Guest House. He stayed and fellowship until 1:30pm and then had to go to work at his plantation. I confirmed the Word of the Lord to him. He told me he wanted the Truth now because he knew the things I had shared with him from the Word of God are true. Those 8 years of my absence from him, he was a Gospel witness of Christ and the denomination churches watched over converts whom he had brought to Christ. But he found the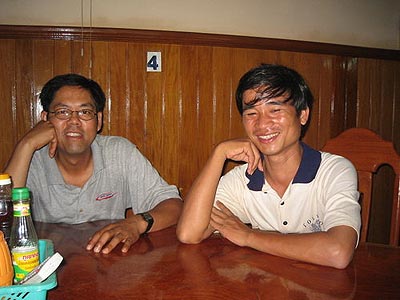 denominations untrustworthy and Truth was not something he heard taught. Therefore, he wanted me to help him understand the Present Truth and not to leave him in the lurch again like I did before. He pleaded with me to return soon to see him.

I sought out a man by the name of Batou whom I had led to the Lord Jesus Christ also 14 years ago and we met in the evening for dinner and fellowship. To my disappointment, I found that he had backsliddened far away from Christ. I encouraged him to look to Christ for his needs and answers.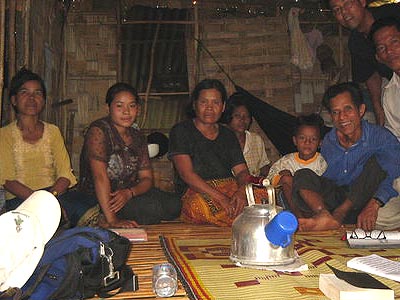 June 22, Sunday
Sorphon and I walked up the high hill to Phan's house in the early morning. It took us about 40 minutes to get there for the fellowship. A neighbour came to join the family and us. I taught on the foundation of the Word, 2Tim.3:16 and the need for the thirst into the spiritual Word of life for this very day we live. Bro. Phan and his family were glad to receive the Word of Truth. By 10:00am we returned to the Guest House to pack for the ride to Stueng Treng province.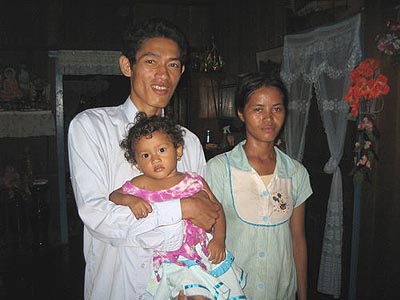 We left at 12:30pm in a taxi on the red dusty pot-holed road to Stueng Treng. We arrived at the town at about 4:00pm, found a guest house and then contacted Bro. Sopheak. We had fellowship at dinner time with him and a believer he had brought to the Christ.


June 23

In the last hour, Sopheak came to see us. We had breakfast and our taxi came and we left for Phnom Penh at about 7:45am. Though the ride was smooth and very fast, the journey was not pleasant as the driver smoked a lot. I had to suffer with his every puff throughout the journey. We arrived into Phnom Penh at 1:30pm. It was raining very heavily and we took shelter till the rain passed before we made our way to my in-law's home. Bro. Pros came and the three of us stayed up fellowshipping till the early morning on the sheltered roof of the house. At dawn Bro. Sorphon went home and Bro. Pros went to work.