THE MISSIONARY TRIP TO
WEST AFRICA − NIGERIA, BENIN, TOGO, COTE D'IVOIRE
and DEMOCRATIC REPUBLIC of CONGO
28 Nov. - 27 Dec. 2007
Bro. Blessing Akpan Nice
31st Dec. 2007
The Democratic Republic of Congo has the largest group of the believers of the End time message, brought by the prophet and star messenger of the last Gentile age (Laodicean Church Age), William Marrion Branham.
The response to this message in the Congo is so great that upon entering the country for the first time one would think it is the country's national faith. As expected, there are also a lot of confusions that have crept into the many message churches in this country. It is so bad that the believers are very much divided. Once you are seen with a brother of a certain camp, you immediately are become an outcast of the others.
Even among those that believe alike, they would choose a big minister of their choice to submit to. The likes of these ministers are called the Elders of the Land. There are also some that are revered as lords, chief apostles, etc.
In December 2006, Bro. Richard Gan and I proposed to visit Democratic Republic of Congo in April 2007. The expected trip did not happen because of the fighting between government forces and rebels over the elections held previously. Elections were also being held at the same time in Nigeria and so it was not a very good time to embark on the trip. A new date was scheduled and the months of November and December were chosen to hold meetings in Nigeria, Benin, Togo, Cote d'Ivoire, and Democratic Rep. of Congo over a period of one month.

LAGOS, NIGERIA
Thursday 29th Nov.2007
Bro. Gan arrived to Nigeria at the Murtala International Airport Ikeja, Lagos at 2:30 pm on the 29th of November (after more than 24 hours since leaving his home) and was received by Bro. Billy Joseph, Bro. Fregene, Sis. Blessing (my wife) and myself. The flight from Addis Ababa was delayed by an hour. We all moved to the Lagos Airport hotel where Bro. Gan lodged for the next four nights.
Friday 30th Nov.2007.
Bro. Gan had his first meeting in my church, Life Assurance Tabernacle Ikeja. There were a few ministers from the denomination churches that came to hear our brother speak.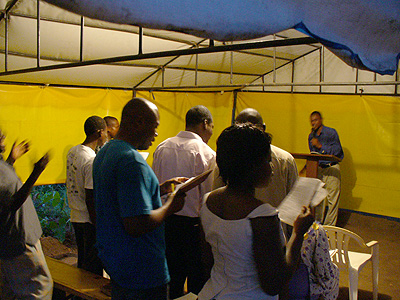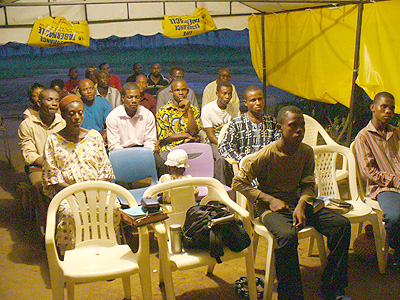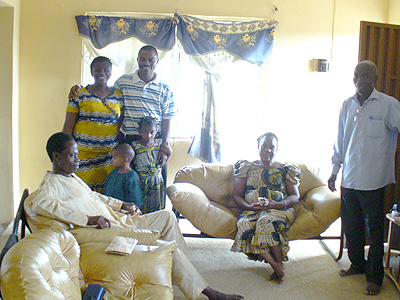 On that night, he spoke on Religion, which he explained by the WORD, was a tool of deception in the hands of the devil. This message constrained one of the attendants to ask his pastor to request Bro. Gan for a 2-day meeting in their church, after his return from Togo.

OGUN STATE, SOUTH WEST NIGERIA
Sunday 02nd Dec.2007.
Having rested on Saturday, we went to the church of Bro. Billy Joseph in Sango-Ota, Ogun State. It was again a wonderful time as Bro. Gan preached on the Character of the Eagle.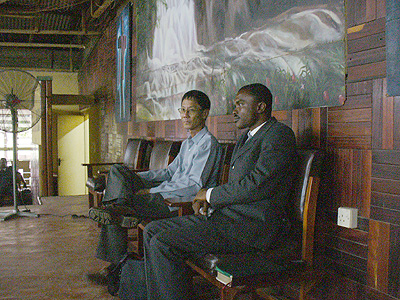 Our trip to Benin was suspended on Monday 03rd Dec. 2007 due to our inability to get our passports from a staff of AFRIJET, whom we contracted to arrange both our flights and the necessary travel documents.
Because there is no DRCongo embassy in Singapore, we had to find a place to obtain a visa for Bro. Gan and myself. We checked the Internet and called AFRIJET's office in April and the staff promised that she would do the necessary travel arrangement for the visas and flights. Reminders were constantly made to her. To our greatest surprise, it turned out that that woman representing AFRIJET decided to handle this without the consent of the office.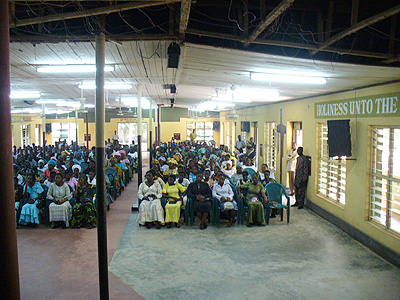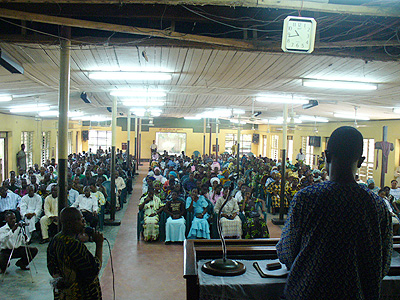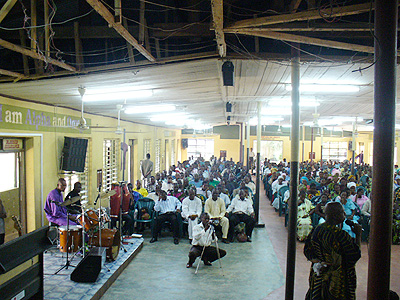 Therefore, we missed traveling on the 17th Dec. 2007 by AFRIJET, and had even had to pay an extra US$300 for an acclaimed EXPRESS visa, which did not come on time as promised.
The possibility of going to DRC was getting blurred, the flights were not there as there were lots of visitors coming to Nigeria for Christian Conventions and the Muslims were traveling out for the Hajj.
[Bro. Gan: We spent this day, and the day before, chasing after our visas for DRC. AFRIJET promised us that they would secure our visas and flights to and from Kinshasa. This arrangement was committed to them early in April when the trip to DRC was called off because of political situation in the Kinshasa. The staff, who was involved, directly or indirectly, mishandled and wasted our time and money, and in the end having gotten our visas, we got no air tickets. How could this be? It could only happen in Nigeria. The seats appear to be sold to the highest bidder. It is nothing less than that. Corruption is high in Nigeria.]

COTONOU, REP. OF BENIN
Tuesday 04th Dec.2007
Finally, we were at the AFRIJET's office to pick up our passports, which had the visas on it, but there was no flight arranged. All efforts to get a direct flight to Kinshasa failed. We had to go to the Benin Republic for the meetings that had been arranged, having missed arriving there the previous day.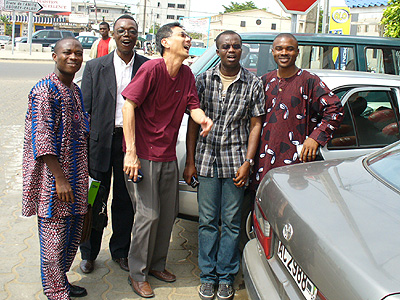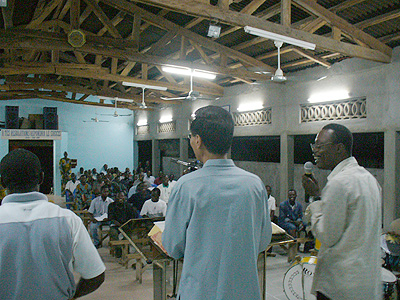 Bro. Nobert, the pastor, and Bro. Thomas were at the border to meet us. As usual, the immigration procedures could not be finished on that day for Bro. Gan. We hurried to the lodging house, dropped our things and headed for the evening meeting, an hour late. The Lord blessed the fellowship as our precious brother exhorted the brethren on the EAGLE.
The meeting in Cotonou ended on Thursday evening with the message 'AGAPE'.

LOME, TOGO
Friday 7th Dec. 2007
We left Cotonou at 10:30a.m for the border between Benin and Togo where Bro. Joseph Tokpo was waiting to pick us up. At this time I was not in the best of health. I had some pain in my abdomen around where my liver is and was unable to continue the journey. We all went to the border to leave Bro. Gan in the hands of Bro. Tokpo while I returned straight to Lagos via Cotonou.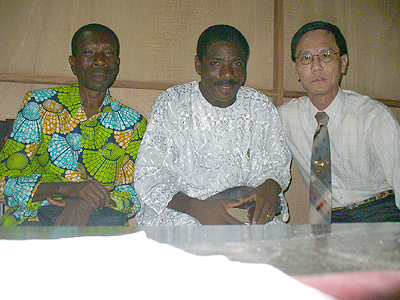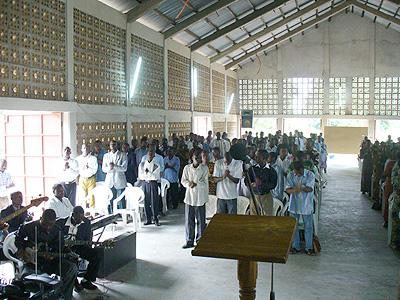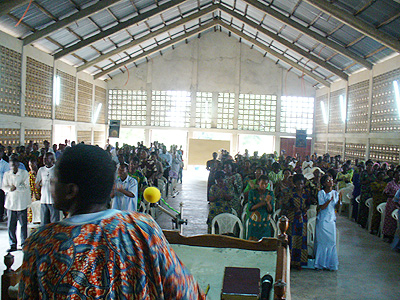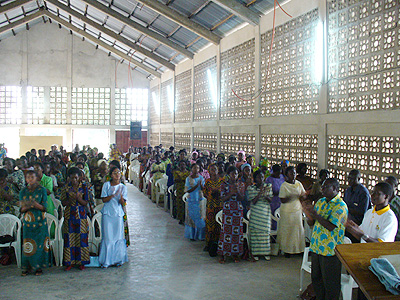 [Bro. Gan: Since my last visit to Togo in December 2005, Bro. Joseph Tokpo and his congregation have remained steadfast in the Apostolic Word. It was my joy to gather with the saints for three days and to minister the Word and to ground them in the Faith.
Going back to Nigeria, I had to cross the border into Benin Republic and stayed a night in Cotonou. The following morning, at Bro. Thomas' office, I chanced to meet a Branhamite who tried to convince us that the NEW NAME of our Lord Jesus Christ is MARRION WILLIAM BRANHAM. When I asked if he meant William Marrion Branham, he emphatically said, "No. William Marrion Branham is the flesh, the man. But Marrion William Branham is the New Name of Jesus Christ." He explained that because Christ has a Gentile Bride, therefore a Gentile name. He emphasized that it is a revelation to those who can receive it.]
LAGOS, NIGERIA
Monday 10th Dec.2007
I was again at the SEME border to receive Bro. Gan from the Cotonou brethren, who had received him a day earlier from Bro. Tokpo of Togo. Rev. Cyril, a pastor of an independent Pentecostal church had arranged a meeting for two days in OKOKOMAIKO area of Lagos. This area happens to be a very rough area and overcrowded too. It is heavily polluted with filth, dust, waste and vehicular exhaust smoke. We checked into a small hotel opposite the Police Station for security reasons, but the food was bad and Bro. Gan had to live on dry bread and fruits.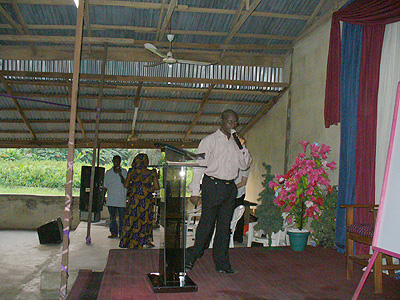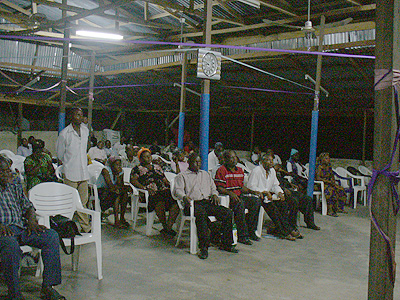 The meeting ended on Wednesday night and the next day, Bro. Billy Joseph came all the way from Ogun State to arrange a comfortable place for Bro. Gan who was due to fly out of Lagos at 5.00am the next morning.
ABIDJAN, COTE D'IVOIRE
Friday 14th Dec.2007
Bro. Gan left Lagos at 5.15am for Abidjan, Cote d'Ivoire, and was there till the 18th Dec. While he was in Abidjan, I was busy wrestling with the inadequacies of the Nigerian Aviation system. My travel agent reserved a seat for me with Kenyan Airways, and the money was sent, only for me to be told that there was no seat. They refunded the money. It was very frustrating. The next available flight to Kinshasa was on the 22nd Dec.
[Bro. Gan: My travel arrangements were completed before I left Singapore. But because of the problems caused us by AFRIJET in Nigeria, I had to re-route my flight to Kinshasa via Addis Abeba. This caused me to purchased an extra return tickets (economy class) from Addis Abeba to Kinshasa (a flight of slightly more than 4 hours) at a price of US$945 plus a corruption fee of US$135 to secure them.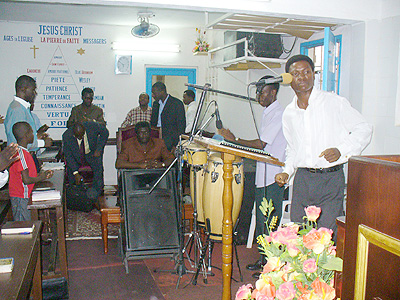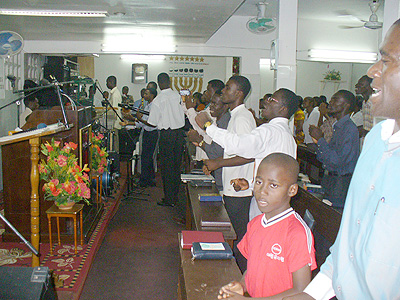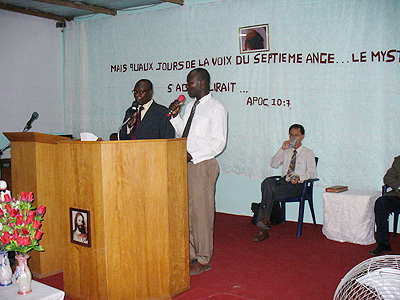 Arriving into Abidjan, I was greeted by
Pastor Romain Abalo and Bro. Daniel Udensi,
and a few other believers. (The environment
was quite a change from where I was in
Nigeria – Okokomaiko area of Lagos.)
In the evening I ministered to a church of
a Pastor David and the following evening in
Pastor Romain's church.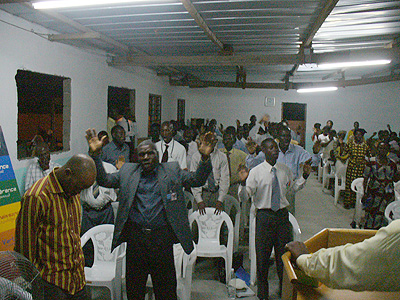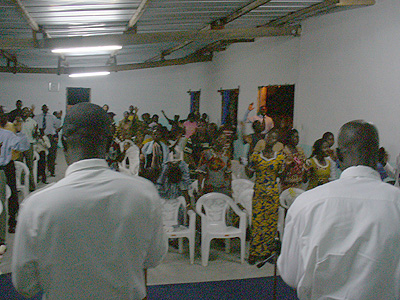 The Sunday morning service was held in a school hall and several churches came together. The Spirit led me to speak on the Mark of Cain and the Serpent's trail.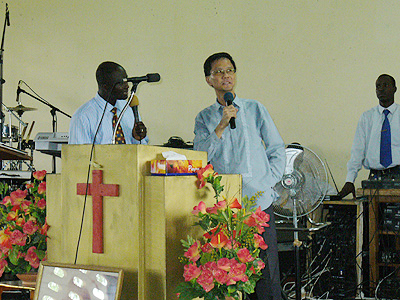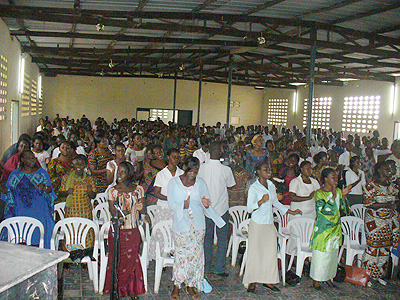 As in every country, so in Cote D'Ivoire, the spirit of Branhamism exists where the message of Branham is embraced. I saw a minister wearing a campaign button of a picture of Bro. Branham on his coat! One would often see Christians wearing a tiny gold cross, a silver or ivory dove, or a fish symbol pinned on a coat (or a blouse) to indicate that he or she is a Christian. But here is a preacher who idolizes his prophet – a Branhamite, indeed.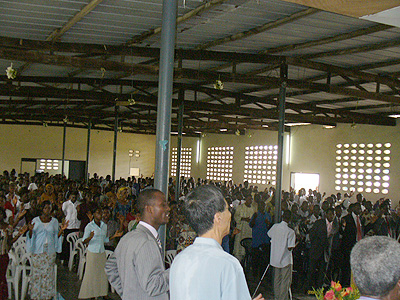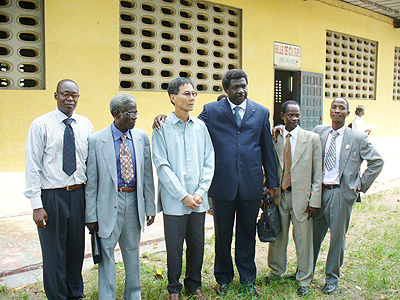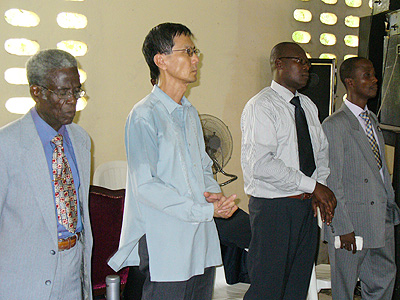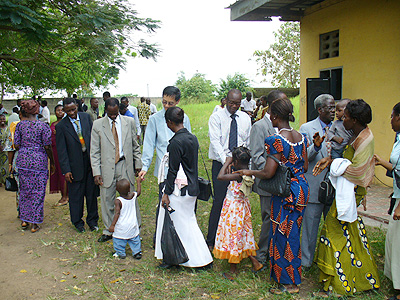 I left the hotel before 3.00pm on the 18th Dec. for the airport to catch a flight that hopped to Accra, Lagos and then Addis Abeba, where I connected to a morning flight to Brazzaville, then Kinshasa on the 19th Dec. The flight arrived about 2 hours late. I was greeted by several pastors, and a pastor Gideon whose church I ministered to that very evening.]
KINSHASA, DEMOCRATIC REP. OF CONGO
Tuesday 18th Dec.2007
I received a late night call from my agent that I could fly the next day (19th Dec.) to Brazzaville, Congo, after which I had to cross the Congo River over to Kinshasa, DRCongo. The next morning, I called Pastor Benjamin Tshiaka in DRC to inform him of the latest development. He called a pastor in Brazzaville to meet the immigration officers before my arrival.
I finally bought a Cameroonian Airways ticket, which took me to Douala, Banjul and finally Brazzaville.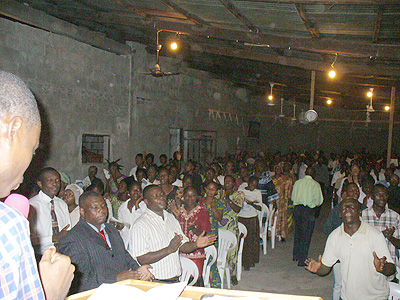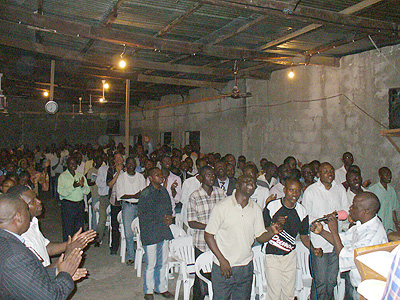 Thursday 20th Dec.2007
I got to Brazzaville by 5:10am and was received by Pastor Joseph. We had to wait for the Ferry, which leaves for Kinshasa at noon. I was cleared by the immigration and the sluggish ferry took 15mins to reach the port of Kinshasa.
Bro. Benjamin Tshiaka received me, he said Bro. Gan arrived the previous day, and was waiting at the restaurant for me. They came to the port thinking I would arrive early, and had to leave after a long wait.
Bro. Gan had a meeting on the 19th at Goshen Tabernacle in Kinshasa. The pastor of this church is Bro. Gideon Kasonga.
20th-21st Dec.2007
Today was Pastor Yves Kalomba's Church to host us. We had 2 days of fellowship and a wonderful response to the Word of God from the believers of the church.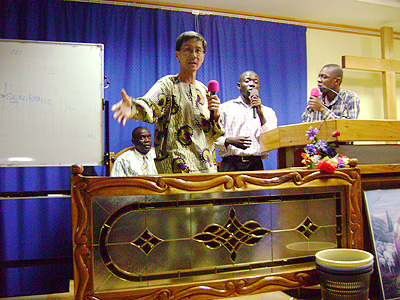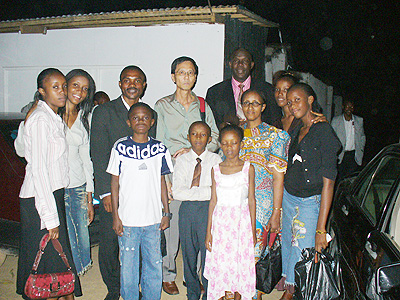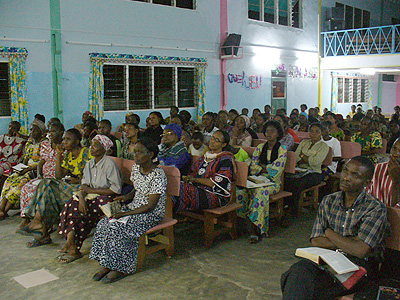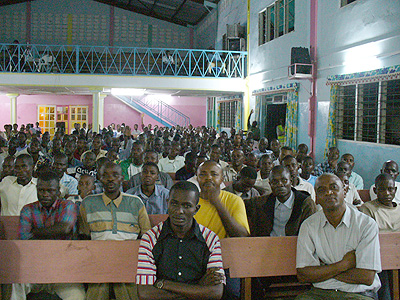 23rd Dec.2007
We were in the church of Bro. Benjamin Tshiaka and Bro. Gan taught on a believer's need to move from glory to glory.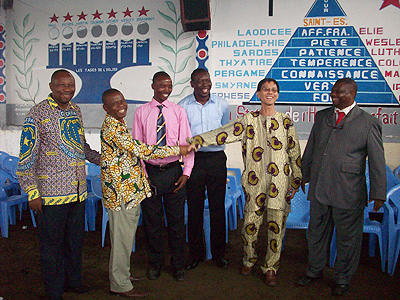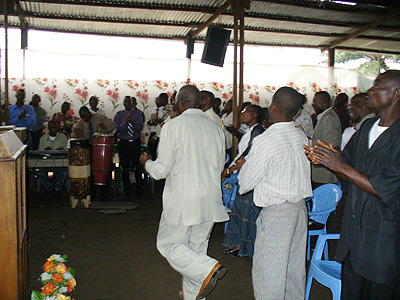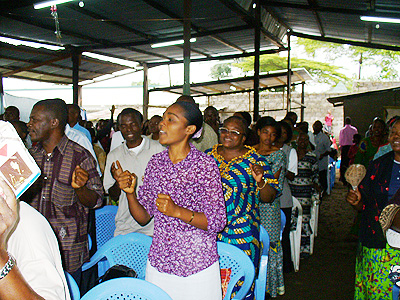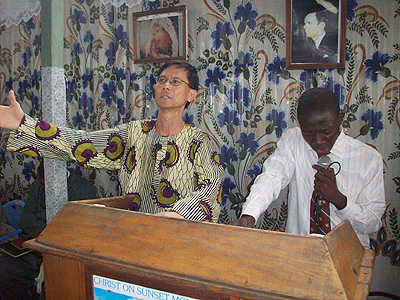 25th Dec.2007
On this day there were 2 services arranged, the first was held in the morning at Pastor David Kalompo's church, near the Airport. After the preaching, the pastor requested the other ministers that were there to say a few words. One minister got up to say that if Jesus was preaching to a group of people and that Bro. Branham was somewhere nearby preaching to another group, he would go and listen to Bro. Branham. Talk about a cultic spirit.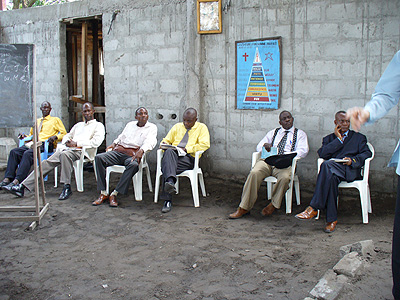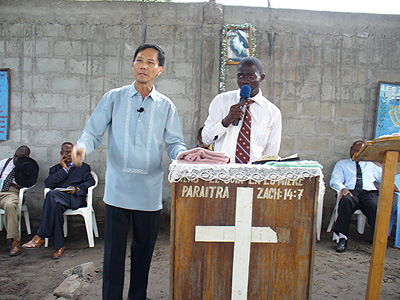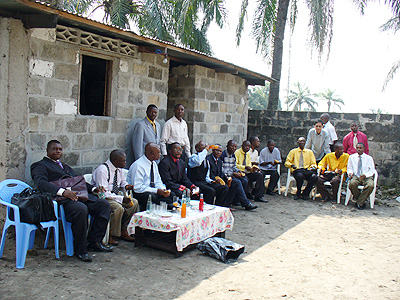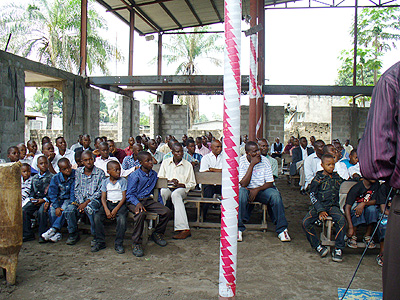 The second was in the church of Bro. Yves Kalomba which we returned to in the evening. Pastor Barutti, pastor of the largest church in Kinshasa, was present in the meeting to hear Bro. Richard Gan.
In his message, Bro. Gan asked the church 'if the Pillar of Cloud and Fire that followed the Children of Israel, and appeared in their sight as recorded in Exodus 40:38 was actually visible?' He said if it was, why would the children of Israel constantly ask Moses if the Lord was in their midst. He concluded that FAITH does not come by SIGHT, but by HEARING, and HEARING the WORD of God. When we see, we do not need faith, but blessed are those who see not, yet believe. Amen.
26th Dec.2007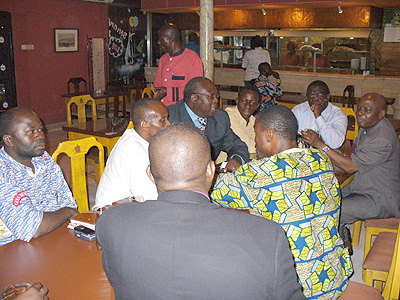 Pastor Barutti arranged a small group discussion to discuss a few important subjects as preached by Bro. Gan. It lasted over an hour and one of the topics contended for by the pastor was centred on the belief that THE MESSAGE AND THE BIBLE ARE THE SAME THING.
Bro. Gan put forth a scenario that if he was forced into prison and was given a choice of two volumes of books − the Holy Bible and the 'Spoken Word' books − which would he choose. His reply was, "I am not in prison, and I'll take both books." The answer speaks for itself. Many Branhamites uphold the 'Spoken Word' books of Bro. Branham at par with the Holy Scriptures, and some even place them above the Holy Bible.
[Bro. Gan: A few days earlier, a minister told me that American, Canadian and German ministers visit Kinshasa often. They will hold meetings where tens of thousands of believers congregate but the messages preached are just about the signs and events of the end time and the prophet that God had sent. Nothing is set in order by the inbreathed Scriptures of God and the different Endtime Message groups will return to their private interpretation of the Message. Such gatherings are nothing short of ecumenism.]
27th Dec.2007
DEPARTURE
Bro. Richard Gan was through with meetings in West and Central Africa. We checked out of the Hotel at 10:30 a.m and headed for the Airport in the company of Brothers Gideon Kasonga and Benjamin Tshiaka.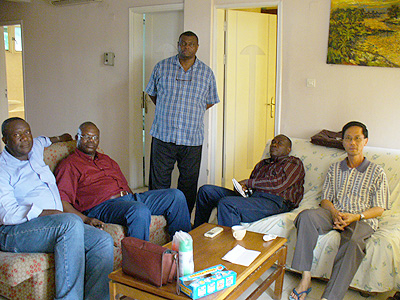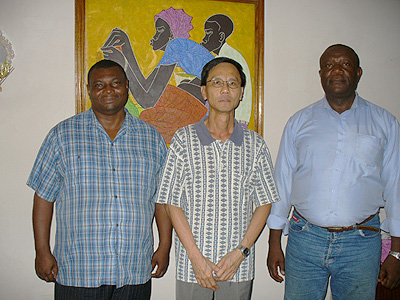 The tour was indeed a blessing as the eyes of many were open to what God is doing in this present hour with his Bride.
I am writing this report from Kinshasa, as I had to stay back to hold a few meetings, which will end on the 13th Jan, 2008. The Minister in Brazzaville has arranged a one-week meeting that will end on the 20th Jan, 2008. I hope to be in Nigeria on or before the 23rd of January 2008.
May the Lord bless you richly in Christ Jesus, the Lover and Owner of the Bride. I wish you all a very wonderful new year and a closer walk with the WORD in 2008. Amen.