AFRICA - ZAMBIA, KENYA, ETHIOPIA VISITS
3-22 APRIL 2007
My health wasn't good after I returned from a visit to Nepal in March. It all began a few weeks before the trip to Nepal. I was so physically and mentally stressed with troubles that I experienced burning chest pain when I breathed in deeply, while expanding my chest. After a week in Nepal I caught the flu and did not realize it until I reached home. Then I developed a nasopharyngeal condition that drained me physically. There were physical signs on my chest. Hence, a decision to make the trip to Africa weighed heavily on my mind. I was stressed and in pain.
My Heavenly Father knew what needed to be done must be done. Prayers were offered by many who stood with me in the Truth. Along with the Apostle Paul I say these words:
"For all things are for your sakes, that grace, having spread through the many, may cause thanksgiving to abound to the glory of God. Therefore we do not lose heart. Even though our outward man is perishing, yet the inward man is being renewed day by day. For our light affliction, which is but for a moment, is working for us a far more exceeding and eternal weight of glory, while we do not look at the things which are seen, but at the things which are not seen. For the things which are seen are temporary, but the things which are not seen are eternal." (2 Cor 4:15-18)
Off to Africa I went on the night of 3rd April, reaching Lusaka, Zambia, almost a day later on the afternoon of the 4th.
Here is Pastor Andrew Phiri's account of the convention.
---
APRIL 2007 BELIEVERS' CONVENTION
Lusaka, Zambia
"O praise the Lord, all ye nations: praise Him all ye people. For His merciful kindness is great toward us: and the truth of the LORD endureth for ever. Praise ye the LORD"
Psalm 117:1-2
It was yet another wonderful time to have meetings with Bro. Gan since 2004 when we had a great convention with him. This time we had attendants from Zimbabwe, Malawi and different places of Zambia.
As was stated in the 2004 convention report, Branhamism had taken deep roots in Zambia, and sadly the few believers who had some access to the truth were in a messed up state of confusion and money begging behaviour. When I came in the message I found a very unhealthy atmosphere filled with all sorts of quarrels, backbiting and all such filthy activities. It was my sincere prayer that God would somehow clear up this confusion. Slowly and slowly I began to see the hand of God. To see what is happening right now in my country among believers of the truth is a move of God. Sometimes I can hardly believe what my eyes see – harmony and fellowship in a place where it was thought impossible! Another thing is that some few believers who knew thetruth were following it incognito, without wanting to publicly declare what they believed. Slowly they began to mix with Branhamites in the name of wisdom and being patient with those who can't see it. Sadly, a number of them, for filthy lucre, have wound up in vain jangling and some even into perverted cults which proclaim some deceived old man in Puerto Rico as the eighth messenger and future Christ incarnate. Even so, the God whose truth endureth to all generations has in His grace raised a new crop of believers in Zambia who are standing for truth and are boldly and publicly declaring it! "I believed, therefore have I spoken" Psalm 116:10.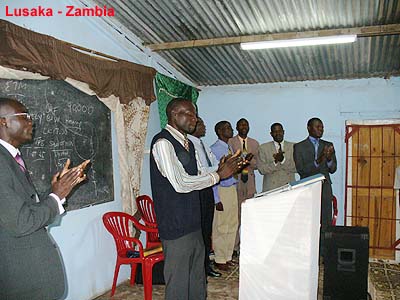 This recent convention has left a big impact. Satan wanted to fight these meetings by attacking Bro. Gan with a nasopharyngeal infection. Just a few weeks before his coming here, he went to Nepal where he got the infection. He had bad chest pain and could hardly speak without coughing. When he told me that he might not make it, I got worried as many people were already expecting him and had promised to attend the meetings. So, together with the believers in my local fellowship we began to pray about it seriously. Well, the whole story is that Satan was defeated and the brother came! He arrived at 2:10 pm at the Lusaka International Airport where I went to pick him up. When we greeted, I noticed he was coughing ever so often. That made me worried and I was wondering how he was going to preach. Well, that didn't make me lose faith. I still believed that somehow by God's grace he would be able to minister. Because of his bad throat, we had arranged a PA system for his use as he had requested.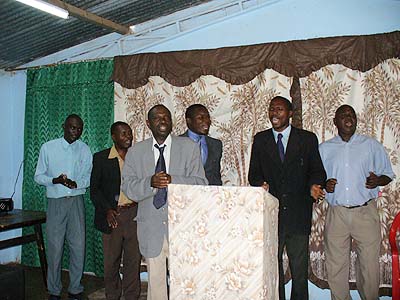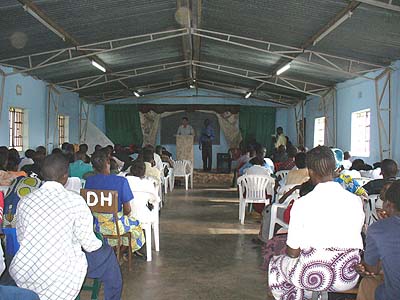 The following day we had our first day of the meetings. It was a short evening service where a brief overview of what was going to be taught during the convention was given. The following day we had services from morning to late afternoon. It was a wonderful time of the ministration of God's word as we looked at how God's Word calls for a total separation from unbelief. Just as the separation of Abraham was three-fold: "from his country, kindred and father's house", so God separated us from the world of Christendom, denominational kindred and Branhamic camp. Yes, Branhamism! There are some believers today who know the truth but in a compromising stand embrace an ecumenical spirit which is motivated by the false "Love Gospel" which calls for unity regardless of whether one believes in two souls, Branham is God, Branham is the absolute,… Surely such unity may bring "joy" to the flesh but is enmity to the Spirit of God. True unity is based on God's Word!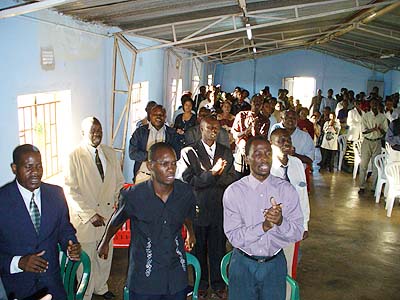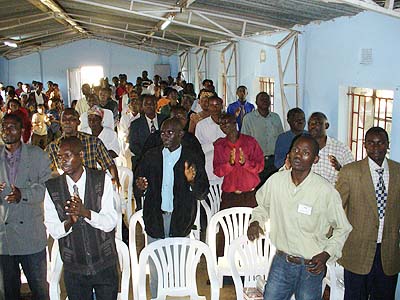 On this second day of the meetings, although the ministration of the Word went on well, Bro. Gan could not fully express the Truth because of his bad throat. At the end of the preaching when he said, "Remember to pray for my health…" I knew that he wasn't feeling well. I was just wondering what the following day was going to be like. On this day the hall was filled to capacity. Guess what happened?. . .
. . .HEALING HAPPENS AS GREAT ANOINTING COMES
As Bro. Gan began to minister I was surprised at his voice as he raised it to emphasise on certain points. I thought, "Isn't that cutting on his throat?" But I noticed that he wasn't doing it with any difficulty or pain. At that point of preaching he turned and said, "You know what Bro. Phiri? Something just happened…". He never had to finish that for me to know what was happening. I could feel the anointing in the hall at that time. God's Word was ministered in power and one couldn't help but feel the anointing. (May I say "thank you" to Bro. Kolaetos of Netherlands who arranged for some prayers over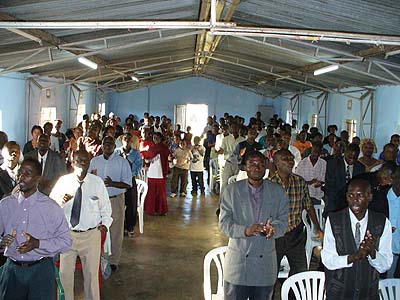 Bro. Gan's health together with some believers around the world. The prayers were answered and the Devil defeated! Amen). I have to say that this anointing was specifically given to attack the spirit of tradition by Branhamism which was in some folks who came to see what was going on in this meeting and also to empower believers already in truth to take a stronger uncompromising stand on the Word. This was confirmed to me after the convention when a certain young man in our local fellowship told me of the strange vision he had during the service, on the last day of the convention. In this vision he saw a white horse fighting with a black one in a dark place. The white one was getting weaker and defeated as the black one was fighting it. Then a bright shining light suddenly came and the white horse got up and defeated the black horse. Is this not clear that the spirit of tradition (darkness) was defeated by the power of the Word during these meetings? God's Word says that, "We have also a more sure word of prophecy whereunto ye do well that ye take heed, as unto a light that shineth in a dark place, until the day dawn, and the daystar arise in your hearts: Knowing this first, that no prophecy of scripture is of any private interpretation" (2 Peter 1:19-20). And 1 John 1:5 "This then is the message which we have heard of Him, and declare unto you, that God is Light, and in Him is no darkness [tradition] at all".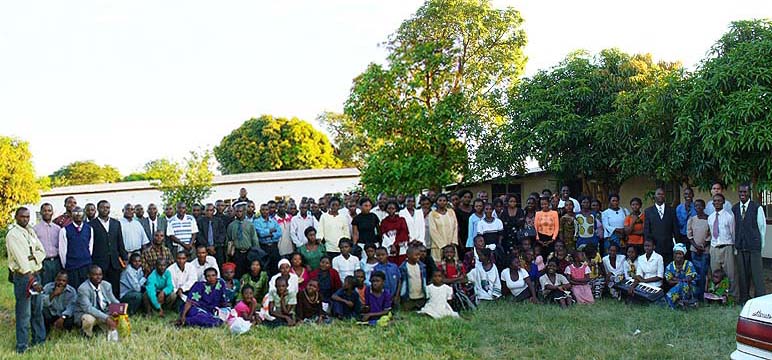 PROPHETIC WORDS GIVEN TO BRO. MICHAEL BANDA
May I conclude with a prophetic experience that Bro. Michael Banda, a deacon at The Word Believers Assembly had. The prophecy came to him on the first day of the convention but he shared it with the people on the last day. I will let him speak the experience he had.
I slept late around midnight. At around 02:00 am I woke up. Suddenly I felt God's presence in the room. I then started moving into another dimension and then heard God's voice which said;

"My saints, you have come from various places. You have come to my table, but remember people have different understandings over my Word but you take care how to understand by being in the true anointing of the true revelation of my Word. You have not come for any other reason but to hear the Word"
This is a brief account of the convention we had.
May I take this opportunity to sincerely thank all the believers in Singapore and around the world who make it possible for Bro. Gan to make the missionary trips. You are not supporting a man but God's work and God will certainly bless you for that. Had it not been for you supporting the work, all these blessings we were privileged to experience would not have been there. I say, May God richly reward you.
To all the saints I say remember that "the grace of God that bringeth salvation hath appeared to all men, teaching us that, denying ungodliness and worldly lusts, we should live soberly, righteously, and godly, in this present world; looking for that blessed hope, and the glorious appearing of the great God and our saviour Jesus Christ; who gave Himself for us, that he might redeem us from all iniquity, and purify unto Himself a peculiar people, zealous of good works." (Titus 2:11-14)
In Love divine,
Pastor Andrew C. Phiri
The Word Believers' Assembly
PO Box 37919
Lusaka, Zambia
Email:acphiri2003@yahoo.com
---
On the second day, in the afternoon service, I was under a strange anointing which came some 5 minutes after I stood to minister the Word. I felt the Spirit direct me away from my intended subject that I had reflected upon to teach to the subject on how the Scripture should be handed and interpreted; and how God Himself in His Own Way expresses Himself in His Own Word. In another 5 minutes, something happened, the spasmodic irritation and pain in my throat just disappeared. I preached under a special anointing of the Lord for about an hour and a half. And at the end of the message, as I prayed to close, my throat acted up again.
God knows why that message had to be preached. Hypocrisy in the "Love Gospel" had presented itself in the midst of the congregation of people from different churches. But God's Word calls for total separation from unbelief. Amen.
On April 11, I flew to Addis Ababa to stay a night before I was transferred to a flight down to Nairobi, Kenya, on April 12. Here is Bro. Hilary Mwangi's Report on the Convention in Nairobi, Kenya.
---
APRIL 2007 BELIEVERS' CONVENTION
Nairobi, Kenya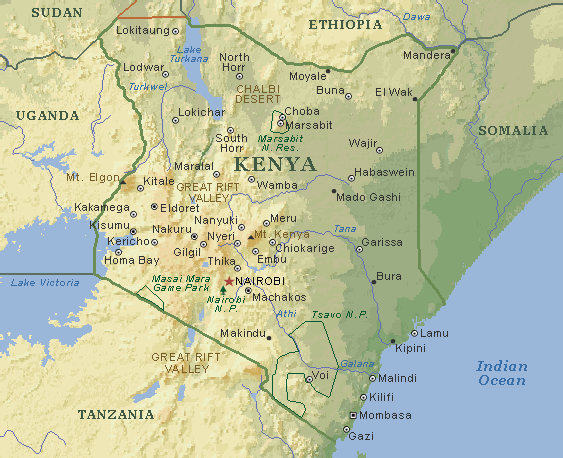 Some time in mid-1991, an old friend, whom I had led to Christ during high school days, asked me one day, "Do you understand the Book of Revelation?" Of course, being his spiritual father he expected me to know. I didn't know and I responded to him with such conviction and sincerity, "Bro Steve, I don't but I believe there'd be one in the world who knows. I know one day I will certainly meet him. The Lord cannot give us this Bible here on earth and expect us to go back to him without knowing what is written!" In my answer, reference to "him" did not necessarily mean a person – it could have been a group of people.
Back then, our denomination was a small fellowship with no denominational name. We condemned others for their blasphemous names! Not long after I left high school, a new name had surfaced in our list (of those that we condemned) – Branhamism. Trusting the wisdom of my spiritual elders, I had put it upon myself to condemn all in the movement, believing that the elders had done their home work well and they were right to judge, so I thought.
But one day I encountered a believer of the message of the hour that was delivered by that humble servant of God, William Branham. My first reaction (no exaggeration) was that I trembled and feared because of what I had been told. What is more, the believer had come to work in the company that I was working for. I decided I would have nothing to do with the tapes or books he had – I would just believe on the Bible only! This I made very clear to him.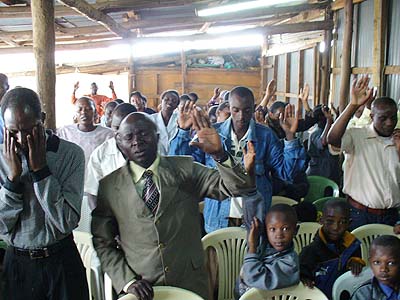 Before a month was over, 'something' that I could not understand started bothering me seriously – a voice within me spoke, "How can you condemn that which you've not heard?" As time went on I felt that I could not resist the urge to investigate what was in those books of Branham. With prayer and fasting I seriously read one book after another checking with the Bible to prove what my spiritual elders had told me about. I was amazed to discover that we were wrong about Branham's teachings. The Lord later gave me a dream where, like in the book of Matthew 13, I saw the end time had come. The tares had been bound, our small fellowship was among them and fire came from heaven to devour all. I was determined to rescue whatever I could but the fire proved too much for me. The Spirit of God, however, took me to safety. As the year 1993 approached, after much repentance to the Lord I received water baptism in the Name of Jesus Christ. I had learnt a very great lesson – to never judge until you have heard!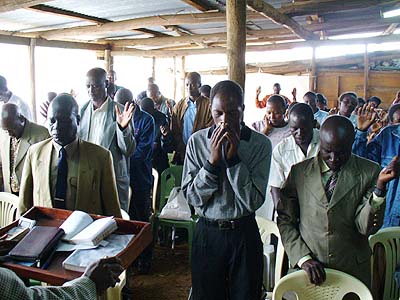 Out of ignorance or pride, we often fail because we want to please others, never checking with the Word or listening to what that "still small voice" has to say. In 1 John 4:1, the Apostle John admonishes us not to believe every spirit, but to try the spirits whether they are of God. In Acts 17:10-11, the Bereans did the right thing. First they RECEIVED the word with all readiness of mind, and secondly SEARCHED (to prove or disapprove) the scriptures daily to verify the report. Paul was the star messenger in his time, yet they were not afraid to check him with the scripture – the Bible says they were more noble.

I have met many preachers who told me they believed Bro. Richard Gan was wrong. In one ministerial meeting I asked one of the preachers whether he had read any of his books or listened to him. He said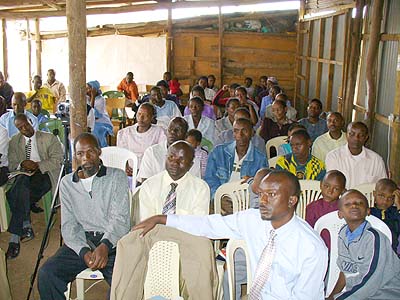 NO, he was relying on others' testimonies. I told him that he was not a faithful servant, he could not judge with justice. Bro. Branham encouraged us to hear every one and take the smallest percentage of truth and leave what was not scriptural.
If the above shortened testimony draws a picture in your mind that Richard Gan's visit in Nairobi, Kenya, presented an opportunity (to many) to hear and judge him by the message of the hour and the scripture, it has served its purpose.
Bro. Richard Gan arrived in Kenya on 12th April 2007 but the meetings began on 14th April and went on until 16th April. His coming had been scheduled for 20th April but his cancelled visits to Nigeria and DRC meant he had to be in Nairobi earlier. The short notice affected some believers in Nairobi and other towns/cities in Kenya who had planned to be elsewhere before coming to attend the meetings from 21st April.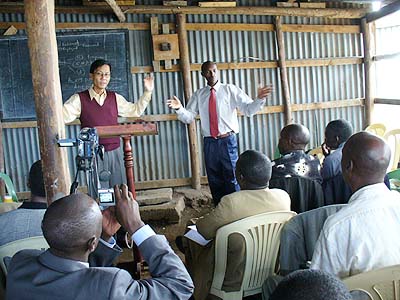 However, the attendance of the meetings was great. Two meetings were held each day (morning and afternoon) with Bro. Gan expounding the Word some two hours at each service. Believers came from Kampala and Karamoja Region in Uganda. Majority though were Kenyans from Nairobi, Murang'a, Eldoret, Lelboinet, Metkei, Busia, Western Kenya and Nyanza among others.
The meetings were not without challenges. The rainy season had started – this could affect access to the meeting place – Kawangware, about 12kms from the city centre. Because the hall was made of corrugated iron sheets, a torrential rains could disrupt the meetings. We prayed to God that for three days the heavens would hold. We thank God who gave us the three days. The heavy rain came on the fourth day.
As usual some believers had been discouraged not to attend the meetings because they were advised that Richard Gan does not believe the prophet, and that wrong teachings would be indoctrinated during the meetings, so they were told. But although they didn't tell me until the morning of Day 3, they decided to find out for themselves. And they had a different story to tell! They told me, "...when they'd ask questions, we'd have answers - we've heard with our own ears." Making comparison to 2 Corinthians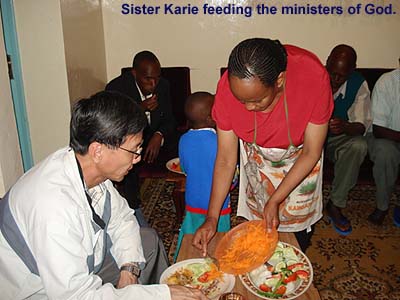 10:10: "For his letters, say they are weighty and powerful...", one of them said, "I was glad to hear the powerful message on the baptism of the Holy Ghost preached in simplicity. His books, are not always so easy to understand."
Nairobi brethren accommodated most of the visitors. One family in particular hosted many and in whose home an opportunity was provided for the different servants of God to share the Word of God, getting answers to lingering questions about the five fold ministry working in the Bride of Christ in the hour we are living in.
On 17th April the visitors started returning home with Bro. Richard Gan leaving on 18th April for Addis – Ethiopia where he had been invited by a Pentecostal church.
In conclusion, let me say this: a brother, a friend of mine, told me many months ago that he visited the internet and saw how different believers were identifying themselves with men abroad – America, Canada, Singapore, etc. I have identified myself with Christ Jesus. When I came to the message of the hour, I saw the prophet of God pointing us back to The Absolute – the Word of God, the Bible. Any servant of God in the five-fold ministry (in Africa or abroad) who is carrying the same message and pointing us back to that Absolute has my respect. It is the Lord who ordains. I might not like you but if the Lord has called you and you've a portion to minister to the Bride, I better take time to investigate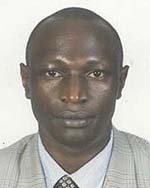 than miss the blessings and the instructions to be ready to meet Him.
Shalom and may the Lord bless us,


Bro. Hilary Mwangi
Box 40870-00100
Nairobi, KENYA
---
In the period between the two conventions (Lusaka and Nairobi), my health was sustained though I was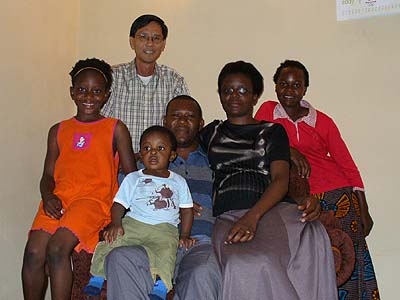 still in pain, both in my throat and chest. In Lusaka, I was lodged in a home of a wonderful family. It was peaceful and I had much rest. In Nairobi, I stayed in a Methodist Guest House but the area through which I had to pass back and forth, twice a day, to get to the meeting place was badly polluted. In the evening, after the first day of the convention (Saturday, April 14), I was in great pain. I struggled to hold back the pain, keeping it away from the believers during the preaching. That evening I wanted to cancel the Monday meeting, if possible. However, Bro. Hilary told me that the believers were told that there would be 3 days of meetings and they were expecting that.
That night, in my room of the Methodist Guest House, I asked the Lord to remember the needs of His people who came. I asked Him for a healing or just strength for me to go on.
A little after 7.00am the next morning, I was awake laying in bed. I could feel the irritation and pain in my throat. About half an hour later I sat up, taking in a deep breath. The cool air triggered my throat into a spasm. I got into an "asthmatic" type attack. I fought to breathe as I coughed away. Then suddenly it stopped. The pain and spasmodic irritation were gone – completely! A miracle by the hand of God indeed!
---
ETHIOPIA VISIT
In one of my earlier trips to Africa in the late 1990s, I was accommodated in a hotel for a night in the city of Adds Ababa as I was to be connected to my flight only on the following morning. As the bus took me from the airport through the city to the hotel, I took in the sight of the city and it evoked in me the story of the Ethiopian eunuch in the Bible. I prayed, "Lord, if only I could speak to someone here Your message for this age." While I prayed, I thought of the many Orthodox preachers I could talk to. Yet, I knew it wouldn't be easy for them to listen and to believe because of their deep rooted traditions.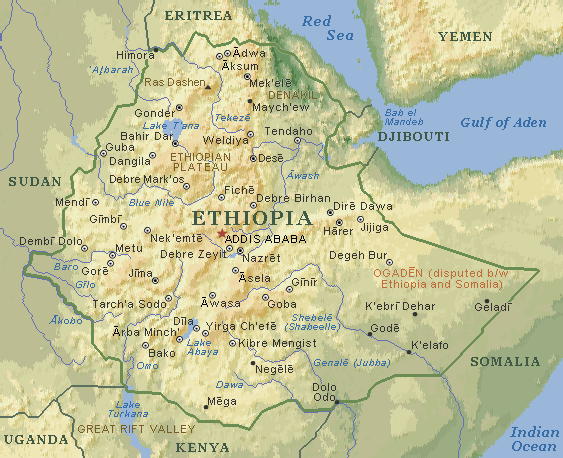 "Perhaps, a God-fearing Christian would listen. Just one person."
The Lord granted my prayer. As I scheduled my flight to the cities of Lusaka, Lagos and Kinshasa last month, an Ethiopian Christian man contacted me via email to visit Ethiopia and to minister to the churches he fellowships with. I was not ready to go due to the tight schedule. However, because of the election in the nation of Nigeria and the political situation in the city of Kinshasa, I re-scheduled my itineraries to visit only Lusaka, Nairobi and Addis Ababa.
Having made the arrangement I flew into Addis Ababa in the evening on April 18 after the convention in Nairobi. On arrival I was greeted at the airport by the head of the "Ande Amkal Bete - Christian of Ethiopia" organization. His name is Yared Mengistu. From the airport to the hotel, we introduced ourselves and got to know one another's faith. The head pastor of the organization called himself and his organization "Apostolic". Basically, like most "Apostolic", the most important doctrines are the Oneness of God, Water Baptism in the Name of the Lord Jesus Christ and the Baptism of the Holy Spirit with the evidence of speaking in tongues.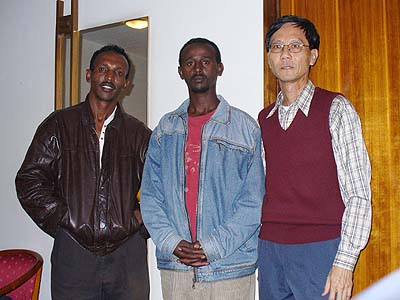 As the hour was late, we bade each other a good night, after he had explained to me the need for us to drive nearly 300km to a town and area called Awasa, south of Addis, and from there off the main road to the unbeaten dry land, some 5-6km, to reach the churches.
On the following day, we started off late. The minister, Yared Mengistu, had a Isuzu 4WD car. It had been with his mechanic for some time but was not properly serviced whatsoever. I could smell gasoline fumes and knew that there was a leakage somewhere. The engine did not sound good to me at all. However, the minister was very sure that his car would take us to our destination, saying that it was a strong vehicle. We filled up a full tank of gasoline and I paid a little over US$50.00 for it.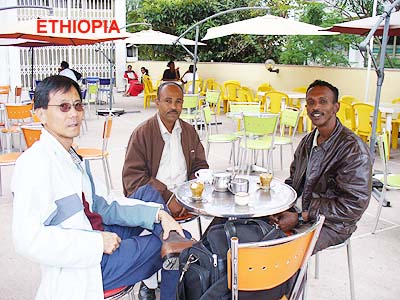 The car moved at an average speed of 50kmh. About 50km later, the car overheated. Water was added to the radiator. After several kilometers, again more water was added. About 75 km from Addis, the engine was really hot. The car stopped. A check on the engine oil showed no sign of oil. Fortunately, we were within walking distance to a vehicle service kiosk which we passed. Engine oil was added and radiator water topped up.
As it was dark, we drove to the nearest town and I spent the night in a cheap hotel with small rooms that had just the bare essentials. It charged only US$5.00. The room was hot with some mosquitoes buzzing away in the dimly lit room. The minister slept in his mother's home in the town.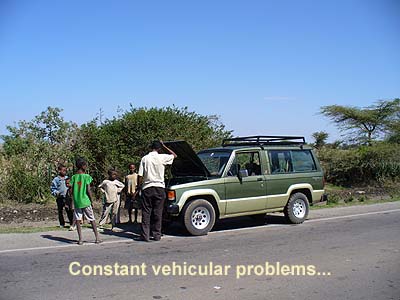 In the morning, we sat off about near 9.00am. Yared Mengistu told me that he would get his mechanic, a member of his church, in the town of Meki to check and fix the car. That town is nearly half the distance between Addis and Awasa. The car had hiccups so often that we were just wasting our time for it to cool as we sat by the roadside. It finally died out and the mechanic was summoned. We had lunch while the mechanic checked the car in his workshop. An hour or so later he came and told us that the crankshaft was in bad condition and that it needs to be overhauled and bearings replaced.
There were two reasons for me to not proceed any further after some meditations. One was the unavailability of a car and the other was the unavailability of a spiritual mind concerning the revelation of the Word. I decided to return to Addis. A local bus was the only means to take us back there.
This particular visit was not wasted at all. I had sowed the Word. Only the Lord can quicken.
I flew home on April 22 on the 0010hr flight connecting through Bangkok to Singapore, touching down at 7.35pm. I lost slightly above 2kg (5lb) of weight, mostly from my chest which still sends burning pains every now and then. Though tired, my health was good. May the good Lord be praised. Amen.