The Nigeria Trip - 2009
I left home after 00:00hre on the 5th of October 2010 to the Harare International Airport. I boar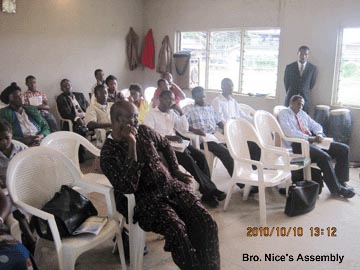 ded the plane for Lagos at 01.30hrs arriving at Lagos airport at 10:30hrs. There Pastor Blessing Nice met me and took me to his church. We had an evening service which was very blessing. With the great expectations from the people the word freely came down. After the service Brother Nice took me to his house where I was to stay during my visit to Lagos.
On Sunday the 10th of October, we had a service at Pastor Nice church. A pastor from Ogun state, another state of Nigeria, came with his family to attend the service.
On Tuesday the 12th we attended a service at Brother Nice's church together with an Evangelist from Ghana. Brother Thomas and this Ghanaian evangelist left for another state and we continued for the next three days with daily services and the Lord did us good.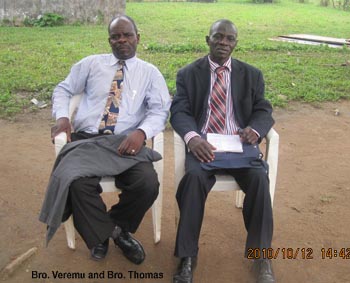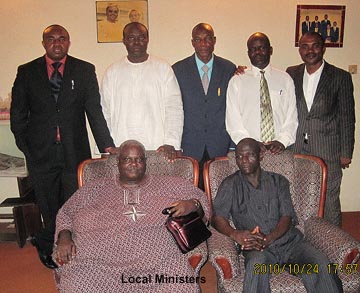 We had some ministerial meetings with discussions on some deep issues namely, the seven thunders, the sin of Ham, the last week of Daniels seventy weeks, and the chief apostle. We also had a time of prayer and fasting during the four days.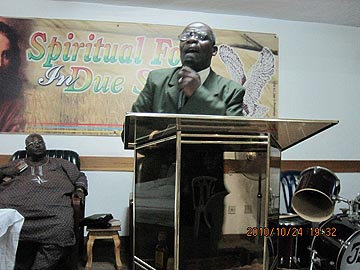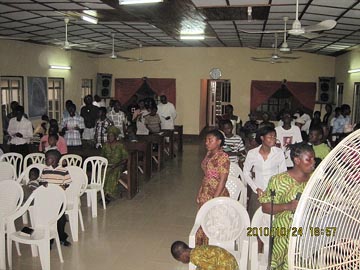 Sunday the 17th was as usual a service at Brother Nice's church. From the 20th to 24th we had 5 days of meeting at pastor Ajala's church. He is one of the old timers in Lagos.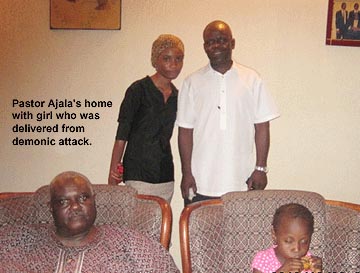 The meetings were quite a blessing. One young girl was delivered from a witchcraft demon. We closed the meetings with a communion and feet washing service.
On this trip, as was supposed to be, I could not visit Cameroon due to the visa and time issue, but brother Nice, after I had left for home, made a trip to Cameroon. It is still my desire to visit Cameroon, the Lord willing.
I really thank God and the saints for making this trip a success. May all the Glory be to God Almighty.
Brother James M Veremu - Zimbabwe